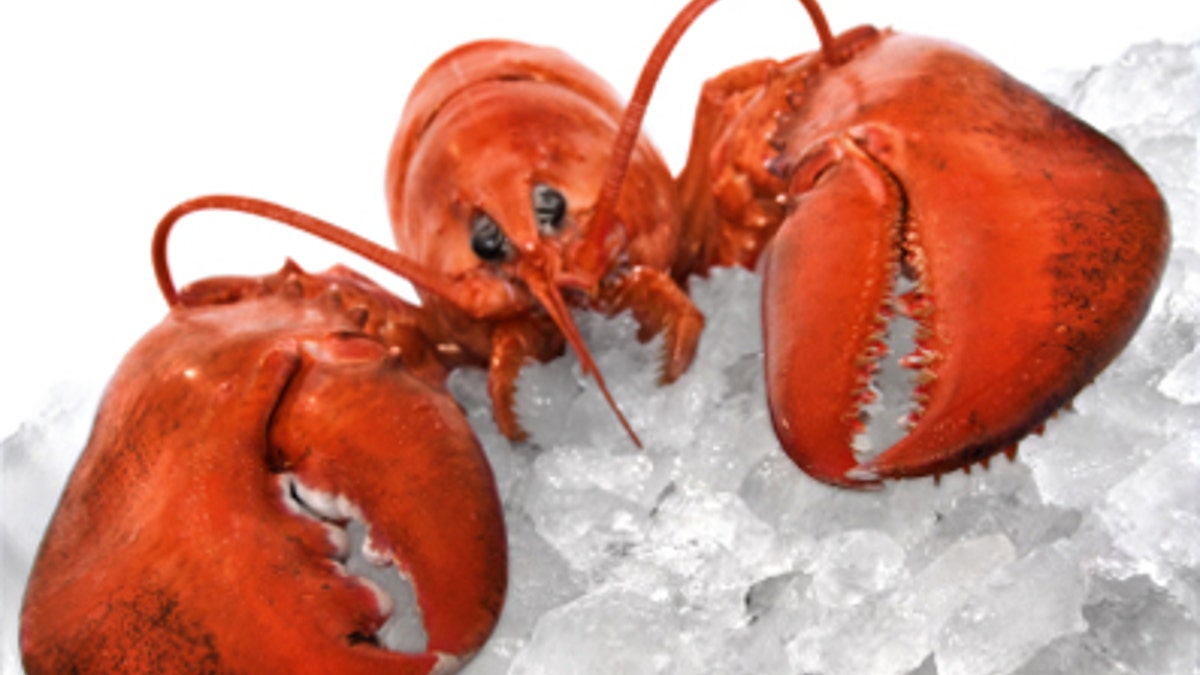 Lobster makes the end of summer bearable, but in this tumultuous year even the costly crustacean can't escape controversy.
First, Kobe the Lobster, a one hundred-pound, seven-foot sculpture was stolen from an eatery in the Hamptons. Then, New Orleans' Times-Picayune reporter Doug McCash revealed that the lobster salad at Zabar's, a popular New York City's gourmet food emporium, was lobster-free.
"Start spreadin' the news," he wrote. "Apparently, if a crayfish gets the right breaks, it can become a New York City lobster." That's right crayfish was the salad's sole seafood. Zabar's owner justified the "lobster" label by citing a Wikipedia entry that says crayfish are related to lobsters. Yes, he really did.
And then there's Denver chef Frank Bonanno's lobster cooking technique. No pantywaist hesitations about animal cruelty. Bonanno decapitates, dismembers and only then cooks by placing claws and tail in separate bowls and covering with salted boiling water. Claws and tails cook at different rates, he says, so it's just silly to plunge the entire thing into a pot of boiling water.
Not to worry. Just one bite of Chef Phil Deffina's updated Lobster Roll dissipates concern for the lovely lobster. Look, if lobsters had brains and thumbs they'd probably boil us, too.
Deffina, Executive Chef of Highpoint Bistro and Bar in New York City, grew up with a mom who was "the worst chef in the world" and a Ron Popeil enthusiast dad. "We had three 'set-it-and-forget-it' rotisseries going every Thanksgiving," he says. Learning to cook was critical to Deffina's survival.
A protégé of the wildly inventive chef David Burke, Deffina's Modern American cuisine keeps it simple—Potato Chip Nachos—makes it fun—Kobe Beef Corndog "Lollipops"—and makes it better—Lobster Rolls. He starts out with, uh, lobster and the usual suspects, a little mayo ("gotta be Hellman's") red onions, celery and chopped tarragon. Then comes the good stuff: Sriracha, a Thai chili sauce; a little garlic; chives; lemon zest (more flavor than lemon juice); Sherry vinegar and shaved fennel. He heaps it on a toasted buttered, miniature brioche cocktail bun.
His Lobster Saltimbocca is a variation on traditional Saltimbocca, an Italian veal dish topped with prosciutto and sage and cooked in wine. Deffina replaces the veal with a lobster "steak" made out of shrimp and lobster mousse and forms it with a ring mold. He wraps it in proscuitto, sage and Parmesan and fries it.
As a child, Chef Radames Febles used to set lobster traps with his Maine-born great-grandfather who made them (his great-grandmother made fishing nets) and learned how to cook from his Puerto Rican grandmother. And now he helms Santa Monica's Latin-Asian fusion restaurant Zengo. It's the only place you're going to find Lobster Congee. (Congee is a Chinese "porridge" made with rice and water or stock.)
He constructs the dish with a Latin foundation, sautéing "sofrito," a tomato/onion/pepper mixture that's a base for many Latin dishes. He adds "dashi," a fish-and-seaweed broth that's a base in many Japanese dishes, punched-up with bacon, lobster stock and chipotle puree. He tosses in cooked sushi rice and simmers. Once he has the right texture he adds lobster and avocado and tops with micro-cilantro.
After earning a degree in graphic design in 1995, Lucero Martinez, helped her family open Atlanta's first authentic Mexico restaurant, Zocalo. Twelve years later she sent her resume to Latin chef and impresario Richard Sandoval. He hired her on the spot and within four months she became Executive Chef at his New York City restaurant, Pampano.
In the Yucatan, says Martinez, Lobster Tacos often start with lobster ceviche, raw lobster marinated in citrus juice (the acid cooks the meat) and dried peppers. For her Modern Mexican version, she smoothes black bean puree and arbol salsa (a type of chile) onto mini-flour tortillas. She adds poached lobster tossed with butter and red onion for richness and texture, and tops with an avocado slice and cilantro.
Her Lobster Rolls, too, have that subtle and just-right South-of-the-Border touch. To a base of lobster, shrimp, chives, lemon juice and slaw (Napa and red cabbage), she adds chipotle mayo, pickled jalapenos and avocado.
Lobster empathizers, rest easy. A giant eighteen-pound lobster caught off the San Francisco coast was recently spared was because there were no pots large enough to cook him. New York Aquarium director John Dohlin just offered the seventy-five year "colossal crustacean" a permanent home. Too bad. Bet he'd have been good with a bucket of butter.
----------
Lobster Congee
Chef Radames Febles, Zengo, Santa Monica, CA
Ingredients:
6 ounces chopped lobster meat (tail and knuckle)
1 cup sushi rice (cooked)
1qt hot smoked dashi
1/2 cup of sofrito
1/4 avocado (diced)
1 teaspoon canola oil
Directions:
In a small sauce pan under medium heat add oil, sofrito mixture, and lightly sauté.
Then add 8 ounces of the smoked dashi and bring to a boil.
Turn the heat down to a simmer and add the rice, cook for 2 minutes.
Add chopped lobster, avocado and mix all ingredients together to get porridge like consistency, add salt and pepper to taste.
Pour the congee in a bowl and ladle the remaining dashi over the top.
Garnish with micro cilantro.