Monster-sized burgers from around the world
We tend to think of both burgers and huge foods as being strictly American phenomena, but while we undeniably take the lead with both, there are burgers and oversized things to eat all over the world — including something that combines the two: the truly massive burger.
Burgers are one of the most beloved foods in America, and in recent years truly great burgers have made their way onto restaurant menus in almost every country. Where not so long ago McDonald's patties were the standard-bearers of international burgers, those thin, gray patties have given way to big, juicy burgers in a major way. And where you'll find big, juicy burgers, you'll occasionally also find monstrous ones.
Now, anybody can stack four half-pound patties on top of one another and call it as big burger, those aren't the burgers we're talking about here. These burgers are made up of at least one single, enormous patty, and eating a whole one can definitely be considered a feat of strength. Or a feat of something.
Most of these burgers are so huge that if you want to tackle one you'll have to call ahead so the kitchen team can get the wheels in motion, and as most of them are considered challenges, glorious prizes and (a place on the wall of) fame await those who can eat the whole thing.
Some of these burgers are still under the radar, some have been featured on television and are their host town's claim to fame, but any way you slice it, these are some insanely monstrous burgers.
1. Blondies Burgers, Winnipeg, Canada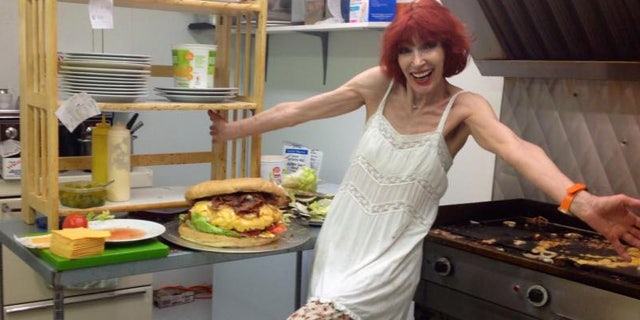 A local institution in Winnipeg, Blondies serves burgers starting at 1/8 pound and going all the way up to a whopping nine pounds. For $67, you can either share the burger with friends or attempt to down it all yourself; if you can put it away solo within two hours you get the burger for free, and also get your picture on their wall of fame.
2. Mallies Sports Grill & Bar, Southgate, Mich.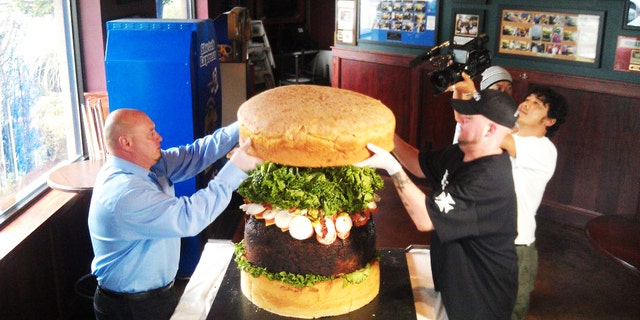 What you see on the right is the world's largest commercially available burger, which is sold at Mallies Spirts Grill & Bar and has been featured on shows including Man v. Food and Food Paradise and can be yours with some advance notice. If you're looking for something slightly more manageable (just slightly), you can settle for the Ten Pound Monster Burger for $39.99 or a three-pounder for $20.00.
3. Nindigully Pub, Nindigully, Australia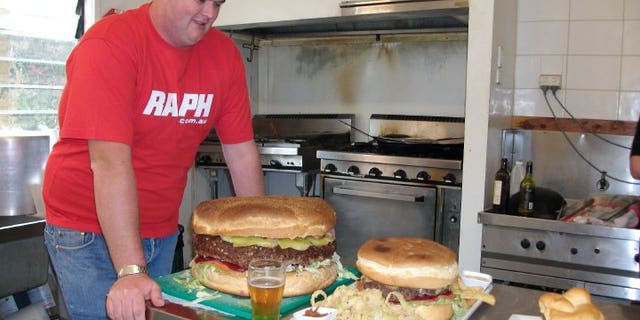 One of the most out-of-the-way restaurants on earth, the Nindigully Pub is located on the edge of the Outback in Nindigully, population six. (It was established in 1964, making it Queensland's oldest hotel.) Today it's known for its Road Train Burger Challenge: Finish a burger made with a 2.7 pound patty along with fries, onion rings, and sauces, which costs $35. The prize? Major bragging rights.
4. Solita, Manchester, England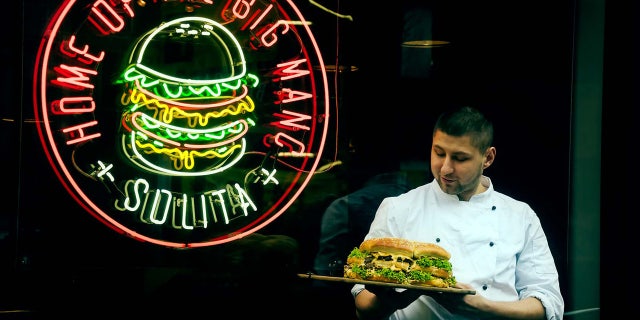 Solita is a popular Manchester pub best known for its burgers and other American-style pub fare. But they turned heads back in January, when they introduced the Manchester Wheel, a 2.2-pound burger patty topped with 12 slices of cheese, eight bacon rashers, and a full liter of secret sauce on a specially-baked bun. The restaurant recommends you share it among six friends; it's served with fries and costs $75.80.
Check out more mega burgers from around the world.
More from The Daily Meal
35 Chicken Recipes for Busy Weeknights
50 Best College Bars in America 2015
75 Best Colleges for Food in America for 2015