Ice cream goes to the dogs: Fun treats for Fido
Doggie cookies, cakes --and now ice cream.
Companies, responding to dog owners looking for the latest way to pamper their pooch, are pumping out jowl-licking treats modeled after human sweets.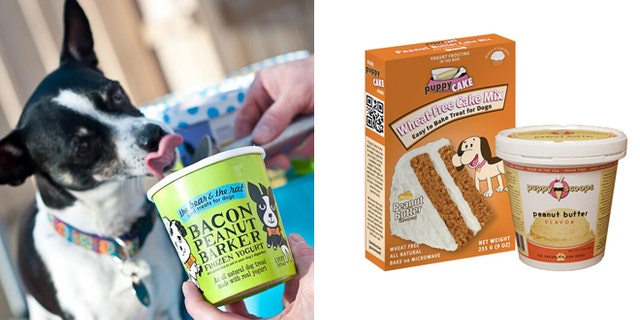 The Bear & The Rat is one company that makes doggie desserts, including frozen yogurt, without ingredients like soy, chocolate or artificial ingredients that make pets sick. Fortified with probiotics, which aids in digestion, flavors include Banana Peanut Barker and Bacon Peanut Barker.
Matt Meyers and his wife Meg—who came from a marketing background—founded the company, which Matt said was 20 years in the making.
"When I was young my family would always go out for cones together and our dad would get our little black poodle a small vanilla ice cream. I'll never forget how excited she got," Meyers told FoxNews.com. "But when we got home, what she ate wouldn't necessarily agree with her stomach."
People foods that are dangerous for dogs
Consumption of these foods can upset dogs' stomachs or worse.
--Chocolate
--Macadamia Nuts
--Onions, Garlic
--Avocados
--Grapes, Raisins
--Xylitol or other artificial sweeteners
--Coffee, tea and caffeinated products
Another company, Puppy Cake, makes DIY cake mixes and ice creams for pets. Their ice creams are shipped as a powder that owners can quickly whip up and freeze at home. They come in flavors like Vanilla, Carob (a dog-friendly chocolate substitute) and Maple Bacon. They use evaporated cane juice as a sweetener and are lactose free.
Sherry Blockinger of Sherry B Dessert Studio in Chappaqua, New York,who also makes a line of doggie treats (but no ice cream), says it's important that pet owners feed animals simple ingredients.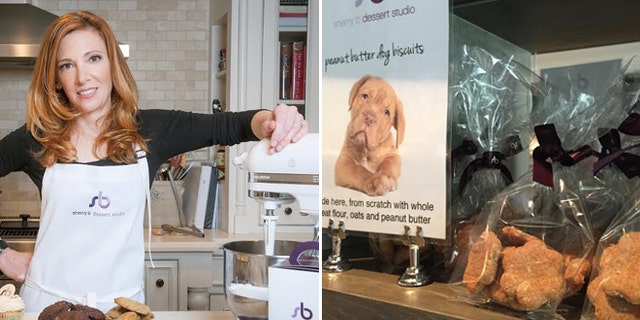 "Dogs have different digestion systems than ours," says Blockinger. The executive pastry chef and dog owner says she uses unprocessed foods in her recipes, including whole wheat flour, old fashioned oats, peanut butter and hot water.
The makers of both ice cream treats say they are safe enough for dogs to eat every day but Dr. Susan Lauten, founder of Pet Nutrition Consulting and veterinary expert, says owners should always read food labels and exercise caution when introducing new treats.
"Treats should be treats. This should not be something dogs get multiple times a day," Lauten said after scanning the ingredient lists for both items. However, the pet nutritionist acknowledged that the ingredients listed on the dog-friendly ice cream packages are fine for healthy dogs to consume.
But if your dog doesn't like it, it's not really a treat.  So we decided to put some of these frozen doggie desserts to the ultimate test.
Luckily there are plenty of pooches in the Chew on This family.  We gave our pack a taste of The Bear & The Rat's frozen yogurt and Puppy Cake's ice cream, branded as Puppy Scoops. All the dogs went nuts for both icy treats—licking the bowl clean.
Phoebe, an eight-year-old Shih Tzu mix gravitated toward the creamier texture of Puppy Scoops Maple Bacon ice cream.
"Definitely a fun idea for dogs to cool off during the summer," said Blockinger as her dog Lily enjoyed The Bear & The Rat's Bacon Peanut Barker.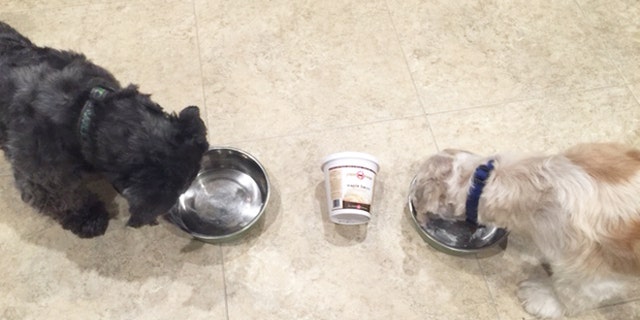 Different breeds of dogs may like one flavor over the other. Meyers says bulldogs, dachshunds and French bulldogs go absolutely crazy over  Bacon Peanut Barker.
Since both treats are made from human-safe ingredients, we couldn't help but sneak a taste.
Puppy Scoops, which contains sugar, tastes remarkably similar to ice cream you'd find at the grocery store, just less flavorful. But it's creamy, sweet and easy to scoop.
The Bear & The Rat's yogurt has a much icier texture. Their seasonal Pumpkin Spice flavor was a refreshing take on the usual fall-flavored treats and comes in a cute container. But with no sugar, you might not want to dig in.
"This is like shaved ice and I know this is made for dogs but I like the fact that you can really taste the pumpkin since it's not super heavy," said one of Chew on This tasters.
But, they are not meant to be consumed by people in large quantities and both companies say that even the pooches should limit portion size based on the dog's weight.
But that was hard to do with our furry taste testers who just wanted more.