Guy Fieri partners with Sammy Hagar for rocker's latest tequila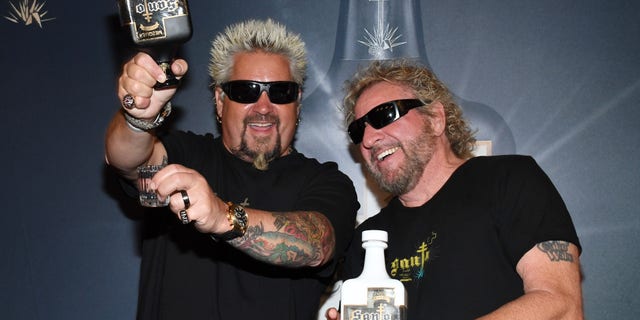 After having already collaborated with Smash Mouth's 2013 "Recipes on the Road" cookbook (for real), rock icon Sammy Hagar and celebrity chef Guy Fieri are teaming up to gift the masses with yet another culinary offering — in the form of Sammy Hagar's next tequila.
"There are a few things I know: Great food, killer drinks and wild times," Fieri said in a press release for Santo Fino Blanco, the second spirit in Hagar's Los Santos line of liquors. "And Sammy and I are makin' it all happen with Los Santo."
OFFICIAL 'GAME OF THRONES' WINES INSPIRED BY CLIMATES, CUISINES OF WESTEROS
Hagar, who famously sold a majority stake in his first tequila brand, Cabo Wabo, to the Campari group for $80 million, claims it was Fieri who approached him about crafting a new tequila just has Hagar was considering adding a blanco to his Los Santo line.
"Guy and I shook hands and a few months later we were sipping the most amazing blanco tequila we'd ever tasted."
The new tequila's recipe is being helmed by master distiller Juan Eduardo Nuñez, who worked with Hagar on his Cabo Wabo Tequila and his subsequent tequila-mezcal hybrid for Los Santo.
Santo Fino Blanco will be available starting sometime in May, according to the press release. Hagar's last Los Santo offering, a tequila-mezcal blend called Santo Puro Mezquila, was introduced in 2017, and said to be a concept developed by Hagar and Maroon 5 frontman Adam Levine.
FOLLOW US ON FACEBOOK FOR MORE FOX LIFESTYLE NEWS
Smash Mouth, meanwhile, has yet to have their own shot at developing an agave-based spirit with Hagar.