Can Tostitos Chipotle Thins unseat Doritos as the ultimate flavored tortilla chip?
Doritos has reigned supreme at the top of snack food chain for years, bringing in more dough than Pringles and Utz combined and dominating the fast food scene with the hit Doritos Locos Tacos at Taco Bell.
But there's a new flavored tortilla chip on the scene from parent company Frito-Lay-- and it really brings the heat.
"Whoa this is crispier, crunchier and it's got a lot of spice. Doritos may have met its match," said one taster of Tostitos new Cantina Chipotle Thins.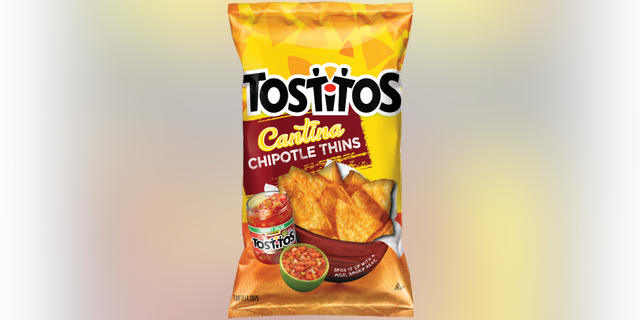 Imagine a super thin, restaurant-style corn tortilla chip that's been generously dusted with chipotle seasoning and a little something smoky that leaves a lingering heat on your tongue after the last bite.
"I like these. Thinner is better," said one young taster. "You can eat a lot of chips in one go and not get as fat."
Unfortunately that's not quite the case. A serving of Chipotle Cantina Thins –13 chips—has 150 calories and eight grams of fat. An 11 chip serving of Doritos Nacho Cheese chips comes in at 140 calories and also has eight grams of fat. So both chips are equally as healthy—or unhealthy.
But the perceived lightness was a big hit with tasters who craved a flavorful chip but aren't big fans of the mess Doritos leaves behind.
"When you eat a Dorito, you expect your fingers to be covered in cheese dust," said one taster. "This doesn't have that but it's still packed with flavor."
For some, the Cantina Thins' spice was a bit too much.
"The very end of the chip tastes too spicy for me," said one self-described meat-and-potatoes man from Missouri.
For those looking to amp up their chip experience, Tostitos has also released two new dips: a Spicy Queso and a Habanero Salsa.
Can you take the heat? Chipotle Cantina Thins are now available in supermarkets nationwide.