Burger King claims new 'Nightmare King' cheeseburger will actually give you nightmares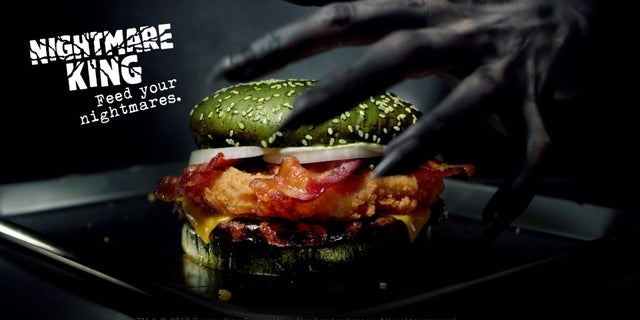 NEWYou can now listen to Fox News articles!
Burger King's latest concoction is the stuff of dreams – or nightmares.
Just in time for Halloween, the fast food giant is adding to its menu the "Nightmare King," a burger with a ghoulish green bun stuffed with chicken, a quarter-pound of beef patty, thick cut bacon, American cheese, mayonnaise and onions, according to a news release.
HERE'S WHY YOU MIGHT BE PRONE TO NIGHTMARES
The burger will be available at select locations starting on Oct. 22, setting you back about $6.39.
Aside from revealing its nutritional content, Burger King said it teamed up with the Florida Sleep & Neuro Diagnostic Services, Inc., to study the sleep patterns of 100 people who ate the Nightmare Burger before bed.
Dr. Jose Gabriel Medina, a specialized somnologist, gleaned from the study that the "incidence of nightmares" increased by about 3.5 times for those who ate the Nightmare King before bed, according to an online statement.
OHIO BURGER KING CUSTOMER CALLS 911 WHEN EMPLOYEE REFUSES TO HONOR COUPONS
He attributed the combination of cheese and proteins to the "interruption of the subjects' REM (Rapid Eye Movement) cycles, during which we experience the majority of our dreams."
This isn't the first Halloween hamburger from Burger King. In 2015, it offered a Whopper with a black bun featuring A1 sauce. Patrons may have gotten an additional surprise with that burger, however. The dyes for the black bun reportedly turned some diners' poop green.