Bun battle: Dominique Ansel's new cinnamon roll vs. Cinnabon
Dominique Ansel, the pastry wizard behind the world famous Cronut, has a new creation for the holidays that's a modern take on a breakfast classic.
The Cinnamon Spun Roll is the Cronut creator's version of a cinnamon bun. And in true Ansel fashion—there's a twist. Instead of rolling thick dough into a circular shape, the pastry chef rolls his brioche dough into super long threads sprinkled with cinnamon sugar. It's baked twice—the second time around it's soaked in a spiked custard—and topped off with an Applejack brandy infused icing.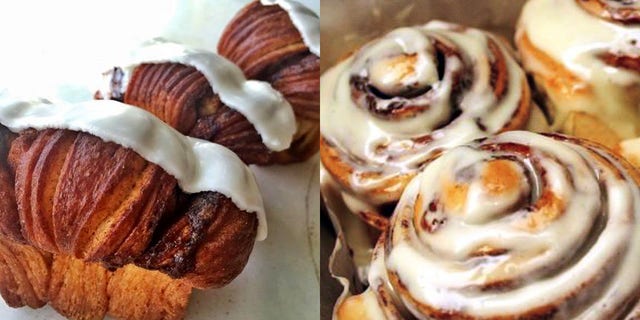 "We wanted to do a cinnamon roll where we rolled things differently, one long thin thread rolled together like a spool of yarn," Ansel told Chew on This. "It increases the surface area and so you're getting a lot more cinnamon sugar flavor for every bite."
So we decided to give it a try.  And to up the ante, we wanted to compare it with another super sugary treat -- a Cinnabon.
The shopping mall staple has gotten a lot of flack in the past for its high calorie and sugar content—but let's face it, it is pretty delicious.
"It's basically like white bread, sprinkled with cinnamon and slathered in frosting," said food writer and Buzz60 host Mara Montalbano of the classic Cinnabon. "Which, to be honest, isn't necessarily a bad thing."
The warm Cinnabon also has a comforting smell that reminded many Chew on This tasters of the holidays.
And least you forget, that smell is one of the company's biggest weapons.  According to the Wall Street Journal, the bakery chain strategically locates stores in malls and airports so that the "smells can linger," and bakes buns every 30 minutes to keep the scent in the air.
But its overall experience has a major drawback.
"I forgot how sticky this is," said one taster who dug in with his hands. "It's really good but my fingers are covered in cinnamon goop."
Next it was time for Cinnamon Spun Roll.
Unlike the glob-like consistency of the Cinnabon, Ansel's roll pulls apart like an accordion, in longer doughy threads.
"It's really buttery and you really get this concentrated flavor of cinnamon in every bite," said one taster.
"This is a lighter take on a cinnamon roll, almost melts in my mouth. I'm sure it's not healthy but I could easily put away two of these in one sitting…never said that about Cinnabon!" said another taster.
Every bite of the Spun Roll is also incredibly moist with its custard bath. But the star of Ansel's Cinnamon Spun Roll is the icing.
Dominique Ansel's Applejack Brandy Icing
3¾ cups (1 standard 1lb box) confectioner's sugar
2 large egg whites
1.5 tbsp Applejack brandy
½ tbsp lemon juice
The chef told Chew on This that one of his favorite fall desserts is an apple tarte tatin so it's no surprise that he wanted to incorporate some fall fruit flavor in the treat. It's slightly tangy and that acidity compliments the buttery roll to keep the dessert from getting too heavy.
"The combo of apples, cinnamon, sugar is awesome. And you really do get a bit of a spicy kick from the brandy."
The Cinnabon won for its smell that quickly brought people out of their offices for a sample.
But for its unique taste and overall texture, Ansel's roll was the favorite among our tasters.
It's currently only available at Dominique Ansel Kitchen in New York City until Dec. 31—and one roll will set you back $4.50. You can get a pack of nine Cinnabon Minibons—which are about the same size as a regular Spun Roll—for about $15.