6 epic ways Mayor Bill de Blasio should have eaten a pizza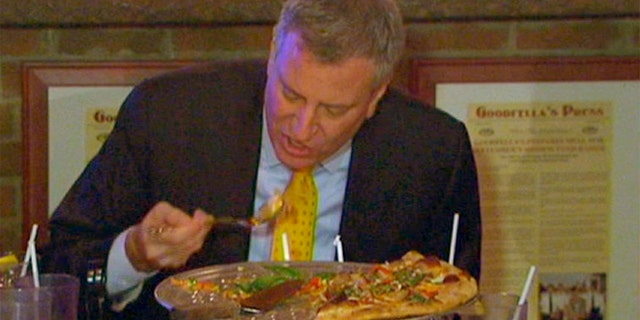 Had the man known he would be embroiled in a the latest scandal to hit New York City, aptly called Pizzagate, Mayor Bill de Blasio maybe would have thought twice about scarfing down pie with a fork.
Last Friday, de Blasio visited the iconic Goodfellas Pizza in Staten Island for a lunch meeting – and was met with some serious stares as he proceeded to eat his pizza with a fork and knife.

"Ya know, I think he's just trying to be polite," Goodfellas' owner Scot Costentino told the Daily News. "We'll talk to him on the side about that."

Comedian Jon Stewart of Comedy Central's "The Daily Show" was less sympathetic.
"De Blasio! ... You're supposed to be championing the middle class," he said on Monday night's show. "Two weeks into your term, and we catch you eating pizza a la Trump?!?"
Under the hashtag #PizzaGate, the story viral on Twitter -- with New York media quickly biting onto a scandal.
The mayor's act even compelled New York Times columnist Maureen Dowd to write a passionate Op-Ed in yesterday's paper.
"I'm not saying it's right," she writes. "I know it's wrong. I'm just saying I do it, too. I eat pizza with a knife and fork because I want only the gooey stuff on top, not the crust."

To add to the Pizzagate mania, de Blasio's controversial fork is now reportedly for sale in a charity auction. The specific details are TBD, Staten Island pizzeria owner Marc Cosentino tells DNA Info.
The mayor could have simply avoided all this if he simply followed these 6 examples on how the deed of eating pizza should be done.
1.) Like John Travolta as Tony Manero in "Saturday Night Fever"
Obviously if you can strut and do anything it is a better option than not strutting at all. Think, de Blasio, what would Tony do?
2.) Like Awkward Macaulay Culkin
Modeling his video after Andy Warhol's video eating a hamburger, Macaulay Culkin awkwardly eats pizza from a bag in this plug for his Velvet Underground cover band, Pizza Underground.
3.) Like Kobayashi
Taking his cue from competitive eater, Takeru Kobayashi, de Blasio could have eaten an entire pizza in under a minute – maybe.
4.) Like a Sleeping Baby
If the city gets angry at you for being too proper with your pizza, why not throw caution to the wind and follow the eating habits of this inspirational infant?
5.) On The Wrigley Field Mound
Before throwing the opening pitch at a Cubs game, comedians Will Ferrell and Zach Galifianakis decided to take a pizza break on the mound. If you're gonna get attention for the way you eat pizza, why not already have a whole stadium's attention while you do it?
Your browser does not support iframes.
6.) Like Ryan Gosling
Because, well, people seem to like him -- no matter what he does.