Will CMT's 'Party Down South' be the next 'Duck Dynasty' or 'Jersey Shore'?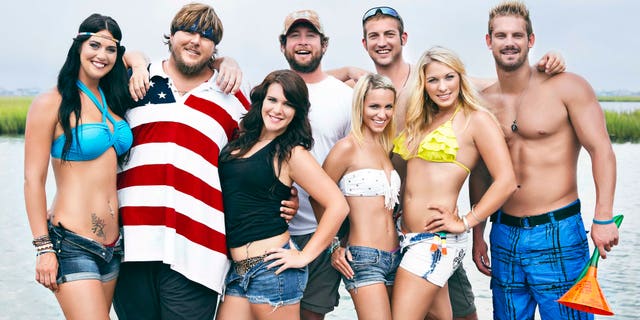 A&E lucked out in the ratings with "Duck Dynasty." Can County Music Television have the same fortune with "Party Down South"?

The producers of MTV's controversial goldmine "Jersey Shore" are back at it, offering this younger-skewed, set-in-the-South reality series featuring eight God-fearing, boot-wearing, gun-toting, truck-loving, beer-guzzling guys and gals between the ages of 21 and 33 on a wild vacation in Murrells Inlet, South Carolina. While the cast members are said to be Southerners, none are actually from the Palmetto State.

But based on last week's episode and an array of marketing clips – which show cast members driving to the river sans swim trunks and one of the women spelling taxi "t-a-x-y" – many doubt it will reflect the wealth and wisdom of "Duck Dynasty's" Robertson clan. Instead, there's concern that it will fan the flames of the redneck stereotype.

"It's billed as a show about partying with a cast that is not even from South Carolina – playing on Southern stereotypes. It's like a copycat formula of 'Jersey Shore,'" Glenn Selig, CEO of Selig Multimedia and The Publicity Agency, told FOX411.

"Do we need it? No we don't need it. But the network clearly believes the public will watch such a show based on the popularity of similar shows, so networks will create whatever shows that they believe will attract eyeballs."

Reality show-focused Hollywood agent Alec Shankman agreed that "Party Down South" may miss the mark when it comes to having that deeper, special something that "Duck Dynasty" has, but it has economic value in bringing a taste of the South to the rest of America, Snooki-style.
"Many shows set in the South tend to perform pretty well," Shankman said. "Not just 'Duck Dynasty,' but 'Swamp People,' 'Redneck Vacation,' 'Moonshiners' are just a few examples. It's a culture rich with personalities, accents, and appearances that some find relatable, some find shocking and many find entertaining when it comes to TV."

But Shankman said the industry has been shifting away from "pure redneck" programming to blue-collar, working class shows. So does "Party Down South" have what it takes to hit the target? Nielsen ratings indicate that the show brought in 680,000 viewers, with 370,000 in the target 18-49 demographic, and was the most-watched CMT show of the night.

Meanwhile, in the decide-all world of social media, the whiskey 'n' wild reality show earned mixed reviews.

"I'm already loving Party Down South. Finally got to catch up with it! It's literally Buckwild but all moving into a house like JS," one tweeted. Another quipped: "I'm not gonna lie party down south is pretty freakin awesome! I'd be doin the exact same if I didn't have any responsibilities."
Others were less entertained by the red Solo cups and deep-fried food seekers.

"Party down south makes southern people look completely stupid. Mainly the girls. Like seriously?" one tweeted. And another called it "downright embarrassing."

"Party Down South" airs on CMT Thursday nights.

Follow @holliesmckay on Twitter.