'Westworld's' Evan Rachel Wood on equal pay struggle: 'I was going to take what I could get'
"Westworld" star Evan Rachel Wood is getting treated like one of the boys.
"It's so weird, it only took 25 years," Wood laughed as she tried to describe to Fox News what it felt like after she learned that she would be receiving equal pay for her lead role of Dolores while at the Tribeca screening of the "Westworld" season premiere in New York City.
"I think I, like a lot of people, was going to take what I could get because I really love what I do and I comprise a lot to do good work and I think a lot of people do, in every field, so it was just a nice surprise," she told us.
Earlier this week, HBO announced that all the "Westworld" stars would be receiving equal pay at the start of filming the third season. The star will be making as much as her male counterparts, Ed Harris and Anthony Hopkins.
And though the star is over the moon, and is still in the process of celebrating her most recent career success, she expressed some frustration with the journey it took to get there.

"I comprise a lot to do go work and I think a lot of people do, in every field, so it was just a nice surprise."
In addition to pushing boundaries in her real life, Wood explained that her "Westworld" character would also be breaking barriers in the show's new season.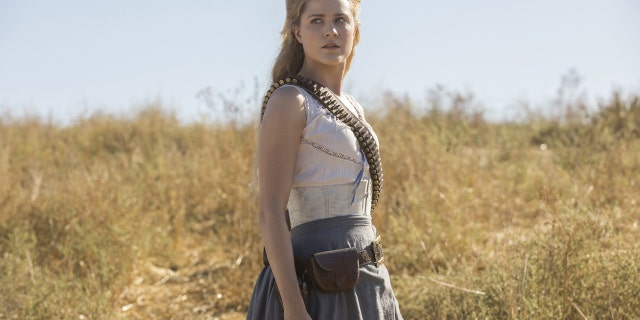 "We're taking really classic templates and turning them on their head," Wood said. "We're stripping down stereotypes, changing what power looks like, what power means, I think especially in season 2, you're going to see the female characters taking control, which is kind of new."
The show about the western-inspired theme park inhabited by robots or "hosts" has helped introduce the television world to a new concept of artifice intelligence and science fiction storylines. And while some of the cast members remarked to Fox News at the Thursday night screening that they did not anticipate the show's overnight success, Wood thought differently.
When asked if she was at all surprised about the show's immediate popularity, the actress said right away, "No. I knew when we were filming it – I kept running around set being like 'guys, guys, have you read the next episode? This show is unreal! This is going to be huge.'"
Wood laughed before clarifying, "I knew. I don't know if everybody did, but I did."