'Weed Wars' Goes Inside Medical Marijuana Dispensary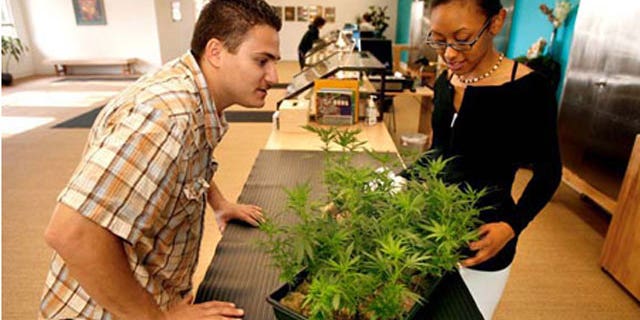 The issue of legal medical marijuana isn't disappearing in a cloud of smoke, as Discovery Channel's "Weed Wars" proves.
The four-part series premiering Thursday goes inside controversial business of medical cannabis by following Oakland's Harborside Health Center, the nation's largest medicinal cannabis dispensary, serving over 94,000 patients. The man behind the pot-centric business is Steve DeAngelo, who hopes that the show will educate Americans on the regulation, taxation and sale of medicinal cannabis.
"We wanted to be a model to other dispensaries, most of who have a media phobia. We wanted to tell our story and we gave Discovery complete access so that people could make up their own minds," DeAngelo told FOX411's Pop Tarts column. "There are a lot of stereotypes about who comes to these dispensaries, but viewers will see our customers cover a huge cross-section of the population – age, race and economic classes. They will also see how Harborside treats cannabis as a medicine, and we have a high standard of medical care."
Although laced with Cheech and Chong-like stoner humor, "Weed Wars"also documents the journey of the plant itself from germination to harvesting, spolighting the serious side of treating medical ailments, and why it shouldn't be used for party purposes.
"We cater to people with chronic pain, insomnia, depression and anxiety. We also have people come in that have brain tumors, MS, or cerebral palsy. Cannabis should be a frontline treatment before progressing on to more dangerous medications," DeAngelo continued. "Personally, I don't advocate recreational marijuana use, but criminal prosecution for cannabis use is wrong too. We should tax it and regulate it like we do other substances."
DeAngelo also stressed how the medical pot industry contributes to the economy and keeps communities safer.
"Harborside alone employees 120 people who all get paid a wage, health insurance and time off, and we are one of the top 10 tax payers in Oakland. Without the medical marijuana industry, billions of dollars in tax revenue would be eliminated," he said. "So would you rather all the users purchase it from a safe place that is inspected and regulated? Or be forced to buy it illegally off-the-streets where the money goes back to gangs and Mexican drug cartels?"
Not everyone is quite so willing to hang a halo over the head of a joint.
"People abuse marijuana. Marijuana is an illegal drug according to the Drug Enforcement Agency," Beverly Hills-based addiction specialist Marty Brenner told us. "The downside of addiction is that is harms your body in so many different ways. It impacts a number of things – the ability to think probably, your bone density, and your liver."
Sign Up for the FOX411 Entertainment Newsletter.
"Weed Wars" will simulcast on Discovery Channel and Discovery Fit & Health Channel on Thursday, Dec. 1 at 10PM E/P