Victoria's Secret model Nadine Leopold recalls leaving Austria at 16 to pursue fashion career: 'I was really overwhelmed'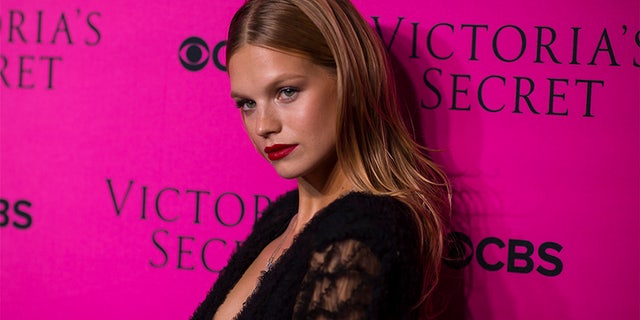 Nadine Leopold was just a teenager when she left behind everything she'd ever known to become a model on the other side of the world — and a few years later, she can say it was all worth it.
In 2017, the now-24-year-old made her debut at the annual Victoria's Secret Fashion Show in Shanghai and was named New York's "It Girl" by coveted fashion magazine WWD. The blonde beauty has also posed for Harper's Bazaar Serbia, as well as numerous editions of Glamour.
A few years back Leopold was also linked to British heartthrob Harry Styles, with whom she allegedly split in 2015 after a whirlwind romance.
Now, Leopold is participating in the E! docu-series "Model Squad," which explores how nine supermodels prepare for the fall runway season, all while maintaining their personal lives and fiercely competitive careers.
Leopold spoke with Fox News about leaving behind Austria, why some girls will "perish" in the fashion industry, as well as the biggest obstacle she has had to endure.
Fox News: What convinced you to let cameras follow you around for 'Model Squad'?
Nadine Leopold: First of all, it's nice because it's just me and a bunch of girlfriends. We've been friends already. But it was also a good opportunity to give people an inside view of what the modeling industry is really like. Especially because there are so many misconceptions.
There's only so much you can show on social media. So it's actually nice to show younger girls how it really works and what our lives are really about.
Fox News: Looking back, leaving behind Austria to pursue modeling must have been a difficult decision for you. How did you cope with the loneliness and isolation?
Leopold: It was very tough, especially because I was 16 years old and my English wasn't that great. I come from a really, really small town and things like that just don't really happen. I was really overwhelmed with everything that was going on.
But I had a really good agent who took care of me. My mom was on the phone with me 24/7, which helped a lot. Thank God there was Skype around. I had a really great support system.
Fox News: What's one obstacle you faced in the modeling world?
Leopold: Believe it or not, being rejected a lot for jobs. I think all the girls go through that. It's really tough, to go through that, get over it and then feel confident enough to not give up, go home and be sad about it or take it too personal. That's honestly the hardest part of being a model.
Fox News: In one past interview, you described seeing other girls perish in this industry, one that is no-nonsense, cutthroat and tough.
Leopold: It's incredibly competitive. And the industry never stops looking for new girls. You get rejected a lot, but you constantly have to stay on top of everything. Some girls take it really personal and it's tough. Every month you're not working, any single day you're not working – it can get to you.
You need tough skin to survive. A lot of girls think it's easier than what it really is. They then jump into it and quickly realize you need to be strong not just to maintain your career, but to also stay in this industry for a very long time.
Fox News: Is it true you were bullied in school for being too tall and skinny?
Leopold: Oh yeah. In school, I was known as the girl with the really long legs. I was too skinny and all my girlfriends were shorter. It was really tricky growing up. And I think when the whole modeling career started, I realized there were a lot of girls like me around.
There were other tall, skinny girls going through the same thing. It seems like a lot of models have the same story about how they were bullied when they were in school. You just stick out when you're the long, lanky girl.
Fox News: How has being a Victoria's Secret model empowered you in any way?
Leopold: I remember when I was 14 years old and I would see the Victoria's Secret Fashion Show on TV. I was just in awe of all these beautiful girls and I looked up to them. But now, it just makes me feel powerful and it does give me a voice. You go from being bullied to accomplishing such a big goal on that runway. It's such a special feeling. It makes you feel really proud.
Fox News: How do you find that balance between opening up to other girls on social media, all while keeping your personal life private?
Leopold: It's definitely tricky, not giving too much away about your personal life. But it's still our own Instagram, so you can decide what the public should see. So I feel I have a good balance of keeping my private life private, but also not too private. It's really all about balance.
Fox News: What's the strangest thing you've ever had to do for a good photo?
Leopold: I had to shoot with ostriches during mating season. That was probably the strangest day of my life *laughs*.
Fox News: What are three fun facts our readers should know about you?
Leopold: I'm a huge video game nerd. I just love to be sitting at home in my sweatpants playing video games. I don't have to think about how I look or what anyone else thinks of me. I'm just in my own little world and I love it. I love eating pizza. I eat it so much. I don't even want to think about it *laughs*. And I have a British bulldog who is the laziest dog on earth. But I love spending time with him.