Tyler Ritter stars alongside Pauley Perrette in 'NCIS'/'NCIS: NOLA' crossover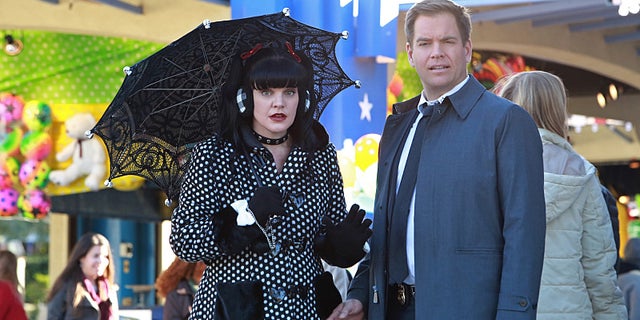 NEWYou can now listen to Fox News articles!
LOS ANGELES – [Spoiler alert: The following article contains information about upcoming episodes of "NCIS" and "NCIS: New Orleans."]
"NCIS" and "NCIS: New Orleans" return from the holiday break on Tuesday night with crossover episodes that combine the best of both worlds as the main suspect in a murder case is related to a member of the NCIS team, so we get an intriguing mystery, along with the reveal of more of the personal life of fan favorite Abby Sciuto (Pauley Perrette).
The story begins aboard a private jet traveling from New Orleans to Washington, D.C. when the passengers and the crew are poisoned, and the evidence points to Abby's brother Luca (guest star Tyler Ritter).
Luca is the personal chef aboard the jet of Jenner Blye, a Tony Stark-type successful billionaire inventor. But when Blye's jet crashes with all aboard, Luca becomes the main suspect because, although his name is on the manifest, he wasn't onboard.
"It's very suspicious that I somehow manage to get off of this plane that I was contractually obligated to be on," Ritter tells FOX411, "so I think it's safe to say that they reel me in. I get interrogated by both Agent Pride [Scott Bakula] and Agent Gibbs [Mark Hamon], which were two different experiences and both nerve-wracking and scary -- and I'm speaking on behalf of Tyler and Luca. Luca played it pretty cool. I've got to say, so that is always fun."
Since the flight plan for the plane originated in New Orleans, the two NCIS teams work in conjunction to locate Luca and determine why a private tech company was targeted. And, despite the fact that Abby completely believes in Luca's innocence, it isn't clear which side Luca is playing for until the case is solved.
Viewers previously were given a glimpse of Abby's brother, but as a 10-year-old child. Now, with Ritter in the role, we see him as a grown man, who definitely has a bit of her quirkiness, having grown up in her shadow as younger brothers do.
"Can anybody be as quirky and lively as she? She sets the bar way too high," Ritter says. "Part of the fun was that Abby and Luca -- both were adopted -- grew up with their parents who were hearing impaired, so we spoke in sign language, and we got to incorporate that in our episode together, which was really, really beautiful."
Because of their closeness from childhood, Luca does reach out to his big sis for help, but not directly. So no one else can track him down, Luca creates a treasure map of clues for Abby to follow, in the form of little stuffed animals, which lead her to an amusement park where they spent time as kids.
"I remember talking to the writer of the episode and saying, 'This makes me so envious, I wish I had this kind of secret languages with my siblings,'" says Ritter, whose brothers and sisters include actor Jason Ritter, as well as Carly and Stella Ritter. "Abby and Luca so clearly have such a colorful past. I was like, 'I wonder if I would be able to leave little clues all over Disneyland and see if my siblings could find me.' It almost felt like a challenge."
Because of the crossover nature of the two episodes, Ritter filmed half of the time in Los Angeles and the other half in New Orleans, where food, of course, is king. And since his character is a chef, Ritter says he did dish up a few meals.
"You don't see him slicing and dicing anything, but you do see him serving some meals, and that's a funny thing about Lucas," says Ritter, who studied cooking when he lived in Argentina seven years ago. "He gets interrogated and then, while he's still being held in the headquarters of these agencies, he's got to keep himself busy, and he can tell that everybody is hungry, so he works up some couscous with some basil dripped on the side and some paprika."
The crossover episodes of "NCIS" and "NCIS: New Orleans" air Tuesday on CBS.