Trashy TV out, Americana shows in: 'Pawn Stars,' 'Duck Dynasty' try to teach you something (but just a little)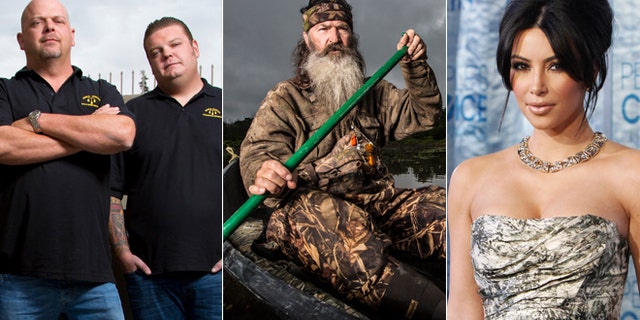 NEWYou can now listen to Fox News articles!
NEW YORK – As reality's first family, the Kardashians, have seen their ratings steadily decline over the past several years, shows like "Pawn Stars," "American Restoration" and "Duck Dynasty" have risen to dominate basic cable. And while these Americana series don't quite match "Bill Nye the Science Guy" when it comes to imparting knowledge, the show's stars and producers say the clean-cut reality shows do actually teach viewers things.
Rick Harrison, of "Pawn Stars," recently told FOX411 that he thinks the history lessons included in his series add to its appeal. On the show, Harrison and the other cast members give historical background information on the various items brought into their pawn shop. During one of the show's commercial breaks, a quiz question pops up, testing the audience's knowledge.
"It's not a replacement for college, but I try to give nice little snippets of history. And I hope that turns around and people get really interested in history," he explained.
And ratings indicate he's doing something right. "Pawn Stars" has seen up to 7.6 million viewers, and its spinoff series "American Restoration" gets about 2.9 million viewers.
Compare those numbers to the eighth season of "Keeping Up With the Kardashians" which saw just 2.2 million viewers on average, down from its peak of around 5.1 million.
"What we always hear is that Hollywood just responds to the marketplace. This trend is absolutely contrary to that," noted Dan Isett, director of public policy for the Parents Television Council. "There's certainly a market for programming that doesn't leave you hollowed inside when you're done watching."
That market was mostly untapped before shows like "Pawn Stars" came to fruition, explained Brent Montgomery, the president of Leftfield Entertainment, which produces "Pawn Stars" and "American Restoration."
"There was a gap when we started making 'Pawn Stars' for at least male programming that had what we call 'laugh and learn TV,'" he said. "You're learning a bit, and we're not trying to stuff too much [educational content] down people's throats."
Another show that has followed a similar model is the popular "Duck Dynasty." The show ends each episode with a family member clearly stating a life lesson that's come out of the previous 30 minutes.
"Duck Dynasty's" Executive Producer Scott Gurney explained the message at the end of the episodes is something viewers have appreciated.
"I think that one of the big things that people love about 'Duck Dynasty' is that it's a positive takeaway," he told FOX411 recently.
So does this trend mean that—dare we say— trashier reality TV could become a thing of the past?
Isett speculated that the media buzz that surrounds shows like the "Kardashians" and the "Real Housewives" franchise will keep them afloat.
"Every time there is some new low reached on a television show or a movie, entertainment reporters tend to sort of breathlessly go for 'what will be next?'"
But Montgomery speculated that in tough economic times, viewers may tire of watching rich reality stars causing endless drama.
"In a bad economy audiences often want to laugh and escape and really enjoy and learn something out of the programming they're watching," he said. "I see reality TV continuing to be reflective of what's happening in the economy [and] pop culture."
But the smarter reality TV shows may not continue booming forever, he cautioned.
"As a producer we have to continue to be very flexible and always be looking for the next thing. While we continue to develop a lot of stuff that is fun and informational, we are also looking into a lot of other buckets."