Toby Keith Launches Expletive-Laced Tirade Against Ethan Hawke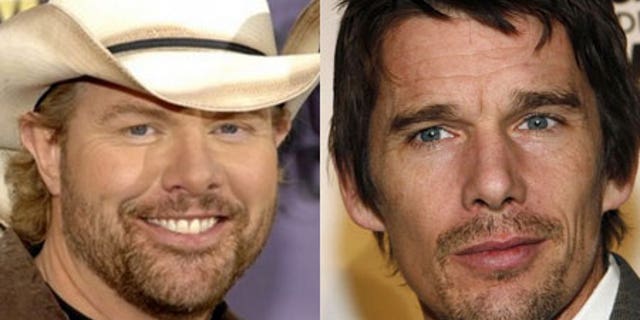 LAS VEGAS – Ethan Hawke might want to avoid crossing paths with Toby Keith in the near future.
The country star lit into the actor for an article Hawke wrote in the new issue of Rolling Stone about Kris Kristofferson. In it, Hawke refers to a blowup Kristofferson had with an unnamed country star back in 2003 that sounds a lot like Toby Keith.
But a furious Keith, speaking backstage at the Academy of Country Music Awards, said it wasn't true, and added that Hawke did not name him in the story because he did not want to face him later.
"I don't know Ethan Hawke. Ethan Hawke wanted to do some kind of superficial Rolling Stone article. And he did everything he could to make his story the greatest story ever in Rolling Stone," Keith said. "And it was a fictitious (expletive) lie. O.K?
"He didn't even call me by my name. ... He called Norah Jones, Ray Charles, everybody else by name. Willie (Nelson), Kris (Kristofferson). Why didn't he call my name? Why didn't he say Toby Keith walked through and said this (expletive)? Right? You know why. You know why. You know as good as anybody why. He didn't want to (expletive) deal with the aftermath."
In the story, Hawke claimed he witnessed the confrontation backstage at Nelson's tribute concert for his 70th birthday at the Beacon Theatre in New York. The article does not name Keith but says it was a country singer who "had a monster hit about bombing America's enemies back into the stone age." In 2002, Keith had the song "Courtesy of the Red, White & Blue (The Angry American)" that threatened retribution for the 9/11 attacks.
Hawke said the argument began with the "Star" telling Kristofferson: "None of that lefty (expletive) out there tonight, Kris."
Hawke said Kristofferson then angrily confronted and asked him if he had ever served in the military.
"Have you ever killed another man? Huh? Have you ever taken another man's life and then cashed the check your country gave you for doing it? No, you have not, so shut the (expletive) up," Hawke recounted Kristofferson as saying. "You don't know what the hell you are talking about."
A spokeswoman for Hawke did not immediately return a message seeking comment. A Rolling Stone spokeswoman said that the magazine fully stands by the story and Hawke's reporting.
Keith directed his anger Sunday not only at Hawke but at a reporter from the Tennessean who wrote about the Hawke article and asked Keith about it backstage.
Kristofferson, in a statement, said he did not recall the incident and tried to be diplomatic to all sides.
"I would like to state for the record that I am friends with Ethan Hawke, Toby Keith and Tennessean reporter Peter Cooper. Although I do not remember the events at Willie's birthday party as reported in Rolling Stone, what does it matter?" he asked. "That was six years ago. I spoke to Ethan before I put out my statement and thanked him for the beautiful story he wrote for Rolling Stone and I also told him I did not recall the incident at Willie's birthday party. This is the last statement I will put out about this nonsense."