Tim McGraw: Faith Hill makes me 'better at everything'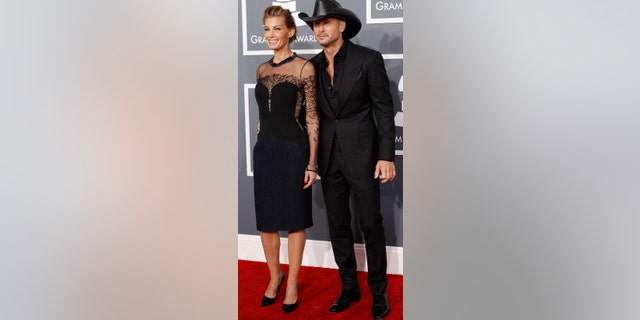 Extra husband points for Tim McGraw! On Tuesday, the singer appeared on "Good Morning America" to celebrate the release of "Sundown Heaven Town," and not only did he perform, but he also gave his wife quite the compliment.
"GMA" host Robin Roberts said what everyone was thinking as McGraw stood next to her during his early morning appearance. "Does he look fantastic or what?" she asked.
Ever the gentleman, the singer was rabbit-quick with his response: "Not as good as you do, c'mon."
McGraw wore a light blue button-down shirt, dark blue jeans, black cowboy hat and a belt buckle that accentuated his incredibly toned physique. Although he looked fantastic and had a great performance, the superstar sweetly veered the attention over to his wife, country star Faith Hill.
Their duet "Meanwhile Back at Mama's" quickly became a fan-favorite at its release, and when Roberts mentioned it, McGraw gave a broad grin.
"Just to hear her sing, she's one of the greatest singers, I think, in the business. I always feel like I'm a Nascar runner with a Formula One racer when I think of her," he chuckled. "She makes me better at everything, so it's good to have her along."
At that, the audience (and Roberts) gave a resounding "aww," and every heart melted.
McGraw's 13-track new album (with a deluxe version available) encompasses everything he's done in his career, and he's called it a microcosm of what his music career has been comprised of.
"I think that throughout my career, I've always tried to do a lot of different styles of music with the genre of country music, [because] I've always felt like that when I sing, it's gonna be country," the singer shared. "It just sort of sounds like everything I've done throughout my career. And it also sort of points to the future a little bit."
With new music, a beautiful wife and millions of fans, McGraw is riding high these days. And, after his sweet words of affirmation, Hill probably is, too.
You Think You Know Tim McGraw?
[youtube zV0Aq3D_ANU]