Tiger Woods' former coach paints golfer as a cheap, porn-loving, cold man in new tell-all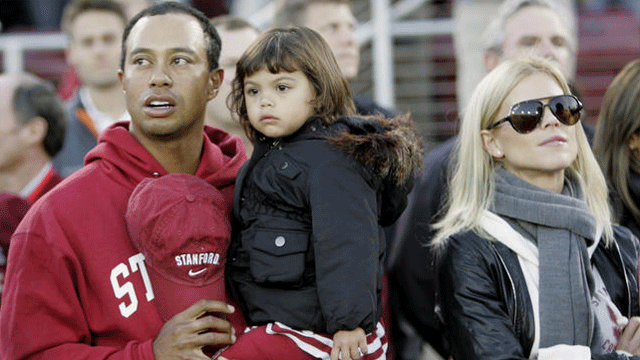 Tiger Woods' former swing coach Hank Haney paints the golfer as a porn-loving, cheap, rude superstar who was upset when his own wife would smile on the golf course, according to a new tell-all.
Woods referred to his hired help as "friends," but he hardly treated them like it, Haney writes in "The Big Miss."
For example, once Woods would finish his dinner at a restaurant -- even when he was with his wife, Elin -- he'd get up, leave without a word and expect everyone to follow, even if they were still eating.
"When he was done -- and he habitually ate fast -- you were done," Haney recalls.
And whenever they got takeout, Haney would have to pick up the food -- and the tab. "He seemed to think it was funny to be cheap."
According to Haney, once, when Nordegren suggested a party following Woods' 2005 Buick Invitational victory, Woods chastised her saying, "E, that's not what we do," he said, according to Haney. "We're supposed to win."
Later, Haney observed Nordegren opting against smiling when her husband was successful on the course.
"In the future Elin would keep her emotions under wraps whenever Tiger won," he wrote.
Haney recalls cringing when Woods would completely ignore "little-kid autograph seekers who were begging him to stop."
He says Woods was a walking contradiction -- charming but cold, focused but aloof.
But Woods' legendary toughness vanished when his sexploits became public fodder in 2009.
"God, the media is pounding me," he whined to Haney. "They're such vultures."
Strangely, Woods also reveled in the attention. He seemed elated when his favorite show, "South Park," depicted him calling his wife a "crazy b----" and a "stupid Swedish cow" as she shrieked at him and hit him with a golf club.
Woods loved toilet humor and immature pranks, Haney writes.
One time, a month before the Ryder Cup in 2006, the American captain, Tom Lehman, had golfers share hotel rooms in Ireland. Tiger shared his with Zach Johnson, a devout Christian.
Woods "immediately purchased the adult-movie 24-hour package and turned the television on."
Johnson ignored the porn.
"It was so funny watching him acting like everything was normal," Woods told Haney. "I got him pretty good."
He was more mean-spirited when it came to rival golfer Phil Mickelson. Woods would call him lazy and "make fun of his body."
Despite not seeing eye to eye with Woods, Haney, who quit as his coach in 2010, never fully condemns him, acknowledging his talent and work ethic and how his patriotic admiration for the Navy SEALs led him to train with them -- a claim the SEALs have denied.
"Even though he was a golfing prodigy, he was never the popular jock or the big man on campus," Haney says of his student of six years.
"He was the nerdy kid with glasses and braces. When Tiger first got to Stanford, [golfer] Notah Begay called him Urkel."
NewsCore contributed to this report.