Joy Behar snaps at Meghan McCain on 'The View' when asked to honor George H.W. Bush without trashing Trump
"The View" star Joy Behar erupted when colleague Meghan McCain attempted to keep the show focused on honoring the late President George H.W. Bush, instead of Behar's favorite punching bag, President Trump.
The show opened with a tribute to Bush and co-host Whoopi Goldberg laughed as she compared him to the current president — perhaps setting the tone for the segment. Many members of the mainstream media have used Bush's death as an excuse to bash President Trump.
Behar was no exception when discussing Bush's legacy, which includes a key environmental statute.
"This president that we have now is trying to unravel everything that [Bush] did and Obama did," Behar said. "If I ever become a one-issue voter, it will be about pollution and the greenhouse effect."
McCain then interrupted, asking if they could focus on Bush, who died at age 94 on Friday.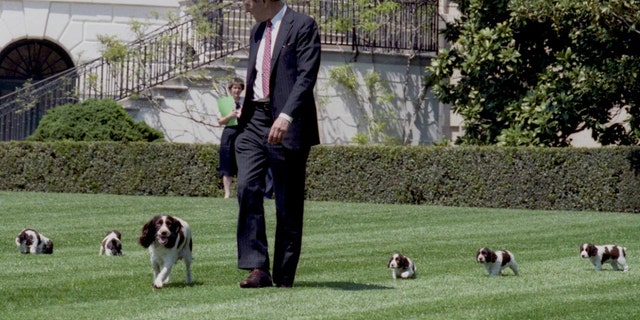 "I don't want to talk about Trump… we're honoring a great president," McCain said.
"Excuse me," Behar snapped back. "Excuse me a second... I want to talk about the differences."
McCain then said she wasn't interested in Behar's one-issue voter feelings when "a president just passed."
Behar responded, "I don't care what you're interested in, I'm talking."
The panel then erupted into a shouting match.
"I don't care what you're interested in, either," McCain shouted before Goldberg quickly tossed it to a commercial break. Behar and McCain appeared to continue the feud as the camera pulled back prior to the commercial. The duo appeared to have moved on when the show return from the break.
'I don't want to talk about Trump… we're honoring a great president'
Behar has rejuvenated her career with over-the-top anti-Trump rhetoric and last week she declared that it would be "a good day for Donald Trump to resign." She recently apologized after saying "God forbid" Trump lives another 20 years and has come under fire for mocking Vice President Pence's Christian faith.
Meanwhile, McCain isn't exactly a fan of Trump herself, as the president and her father, late Sen. John McCain, had an ongoing feud until he died earlier this year. McCain, along with Abby Huntsman, offer conservative voices to the ABC News daytime chatfest.
Bush's funeral service will be held Thursday at St. Martin's Episcopal Church.