'The Sound of Music Live!' was exciting and fun, but not without its flaws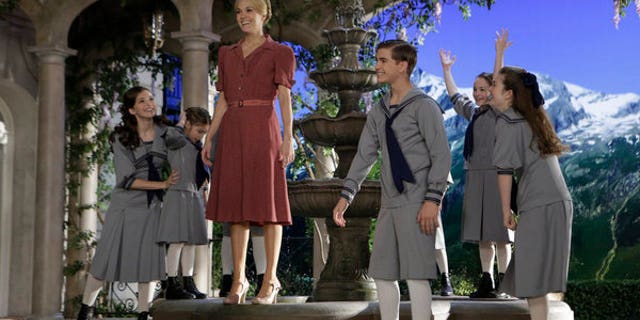 It's a long way back to Mary Martin as Peter Pan, but the notion of a live TV musical — with all the inherent risk that entails — still contains more than a little magic. So give NBC credit for tackling the challenge, in trump-the-DVR-age fashion, with "The Sound of Music Live!," even if the actual production too often felt as lifeless as those alpine backdrops. Part of that has to do with mounting a stage production on TV — even with the benefit of swooping camera angles — and part the casting, with Carrie Underwood handling the vocal chores more ably than the acting.
Produced by Craig Zadan and Neil Meron — who have done their all to prove musicals can thrive on screen, from "Chicago" to (less successfully) NBC's "Smash" — the production was certainly handsome and polished, although in a sense, that worked against the live element. Sure, you might have seen a stray body through a window, but any sense of jeopardy dissipated rather quickly, leaving behind a new version of "The Sound of Music," without the benefit of Julie Andrews or the original's sweeping vistas.
'Sound of Music Live': Sing Along with Twitter
Directors Beth McCarthy-Miller and Rob Ashford certainly managed to get the most mileage and depth out of the elaborate sets, escaping any sense of claustrophobia. But for the most part they couldn't make the story sing between the musical numbers, and the tingle one can get from a live theatrical experience didn't materialize as filtered through the remove of TV.
That's not to say this "Sound of Music" was without its pleasures, from "Sixteen Going on Seventeen" (as performed by Ariane Rinehart and Michael Campayno) to Audra McDonald — a truly superior Mother Abbess — belting out "Climb Every Mountain." Laura Benanti also made the most of the relatively thankless role of Frau Schraeder, the ill-fated would-be bride of Captain Von Trapp (Stephen Moyer).
Still, the Maria-Von Trapp relationship has its problematic aspects under the best of circumstances, and Underwood and Moyer didn't come close to threading that needle. Given the absence of chemistry, one could be forgiven for hoping he'd lapse into "True Blood" mode and simply bite her neck.
Understandably, some of the commercial breaks were awkward, and the Walmart sponsorship became slightly obnoxious — at least, for anyone not savvy enough to simply DVR the whole thing and reduce the time commitment by close to an hour.
From a wider and perhaps more generous perspective, it's hard not to root for this earnest adaptation to enjoy a measure of success, if only to encourage networks to continue to brave such events. (One thought: To avoid the taint of snarky tweets from the East working their way toward the Pacific timezone, it might be wise to consider airing some future efforts live simultaneously.)
That macro view, however, can't fully obscure the micro one. And in terms of feeling like this production genuinely delivered, that's one mountain "The Sound of Music Live!" just couldn't climb.
Click here for more from Variety.