The Band Perry postpones Delaware show after 2 men allegedly threaten concert
The Band Perry canceled a concert in Delaware on Sunday night after two men allegedly made threatening comments.
Delaware State Police Master Cpl. Gary Fournier said the men made the statements at around 2:55 p.m. to an employee at the Americana Bayside Welcome Center, according to The News Journal.
Fournier said "due to heightened security concerns and for the safety of the public," it was determined the Selbyville show would be canceled. Officials haven't released the statements the men made.
Delaware police released surveillance photos of two white men they believe made the threatening comments. One man was wearing a green T-shirt and shorts and the other was wearing a purple T-shirt and blue shorts. They are believed to be between 20 and 30 years old.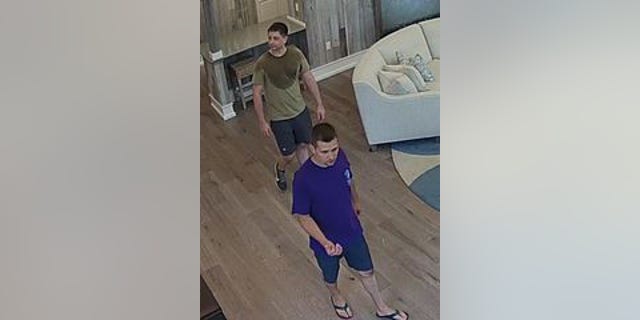 Patti Grimes, executive director of the Joshua M. Freeman Foundation that runs events at the Freeman Stage in Delaware, told the paper that management for the band met with authorities and decided to postpone the show. The concert was rescheduled for Aug. 17.
Grimes said the threats were made specifically toward the concert, which was expected to see about 2,400 people.
"You always want to make the right decision, and that might not be the popular decision," Grimes said. "Since this is an active ongoing investigation, we are not at liberty to share the details.
The Band Perry apologized to its fans in a Twitter statement.
Joshua M. Freeman Foundation spokeswoman Alyson Cunningham said the venue had beefed up security following the shooting death of Christina Grimmie at an Orlando, Fla. venue last month. Grimmie was shot dead while signing autographs.
Fournier said police won't release specific details about the threat to "avoid jeopardizing the investigation."
Anyone with information about the incident or the suspects is urged to call 302-856-5850 or calling Delaware Crime Stoppers at 800-TIP-3333.