Teri Gender-Bender Is The Latina Björk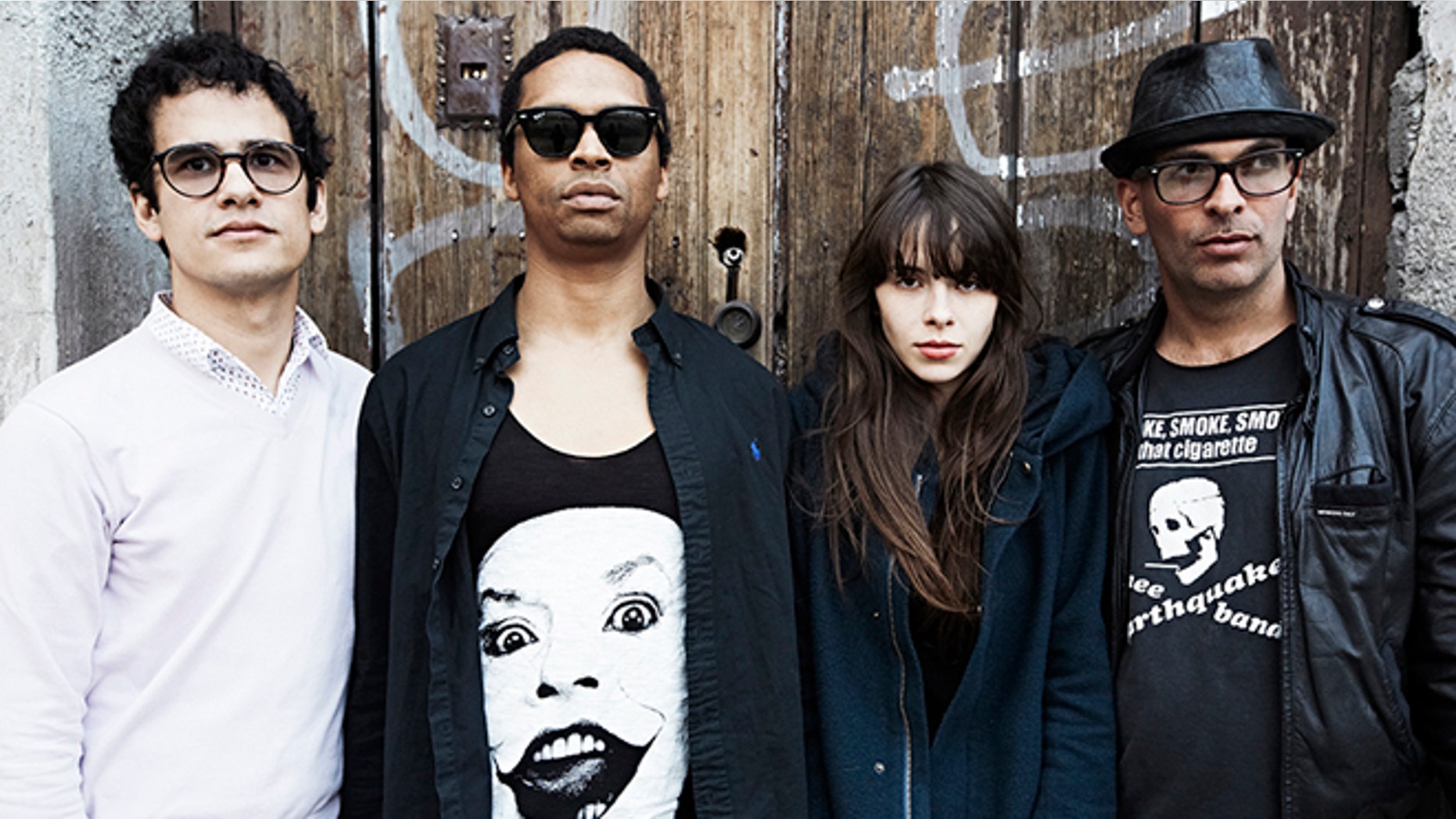 Teresa Suárez, better known by her stage name "Teri Gender-Bender," is fast becoming the Latina leading lady of the music genre "garage punk," even once called the "Latina Björk."
A performer of many facets, Suárez is best known as front woman to the explosive Guadalajara garage band Le Butcherettes. Notorious for her performances that include fake blood, flour, a pig's head, and whole lot of red lipstick, Suárez is now the featured singer in the recently formed band, Bosnian Rainbows. And it's her powerful voice that steals the show.
Suárez has left Le Butcherettes on hold for a bit and said the new band is a sort of new evolution for her. It's been a good ride for Le Butcherettes though; their quick recognition led them to win both "Best New Artist" and "Best Punk Record" in the Indie-O Awards in 2009.
This latest Bosnian Rainbow chapter brings Suárez together with Puerto Rican Grammy-winning producer and musician Omar Rodríguez-López, who is from the bands At The Drive-In and The Mars Volta. Also joining the quartet is drummer Deantoni Parks and keyboardist Nicci Kasper.
Rodríguez-López and Suárez have been friends for five years, she said. He's played bass guitar in Le Butcherettes and produced the band. He recently directed her in a film entitled "Mi No Y Esperanza." Rodríguez-López also wrote and produced the film.
In the film, Suárez plays the role of a shattered, lonely, and desperate woman. It's unclear when the film will be released.
"This new venture is a bi-product of our relationship. We all have really good chemistry. We made this current album, kind of holed up in a Hamburg, Germany recording studio. We had to focus, let loose, and get it done," Suárez says.
The band's self-titled debut album, which was recorded during an eight-day session, shows a new, more open and vocally explosive side to Suárez.
"I kind of opened up on this one, showing more of myself, digging in a bit more," she said.
The album is one of dualities. Songs start out seemingly like love songs, and spiral quickly into an edgy, snarling, and cynical shredding punk/funk anthem — sounding more like the soundtrack to a cool film than radio pop songs.
Suárez said she's bringing her Latino ancestors with her when she sings.
"I'm a 'Tapatia', meaning a woman from Guadalajara.  I'm more than just hard-sounding music. I play ballads on my ukulele," Suárez said.
She's also published a book of poetry.
Bosnian Rainbows has potential to fit into multiple genres. And it's also multi-cultural – its members consist of an Arab-American, a Puerto Rican and an African-American.
"We sacrifice our own for the bigger culture of music. I'm a Latina making music. I came from the womb of a Latina. It's my honor to rep Mexico," Suárez said.
The band has recently finished a Spanish-language album, and Suárez said they're very excited to release something that no one else has heard.
She says her mother liked the latest album, but LOVED the Spanish one. The band is hoping to book more gigs in Latin America.