Billboard Pleading for Latina Girlfriend Removed by Vandals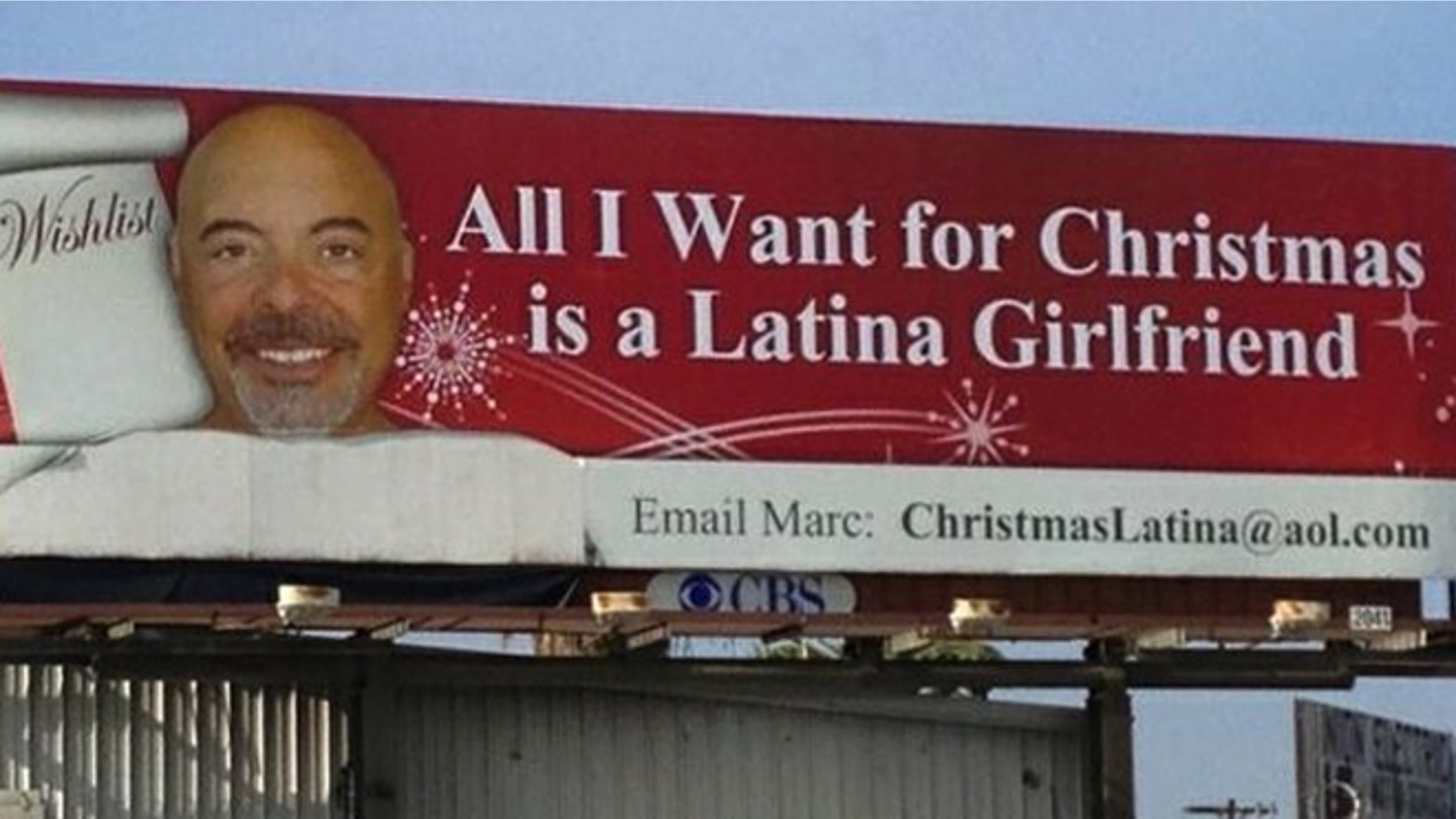 San Diego – Maybe the California millionaire seeking a Latina girlfriend got an early Christmas present.
The huge billboard over a California freeway seeking a Latina girlfriend was unexpectedly taken down this weekend – just days after the sign made national headlines, KNSD-TV is reporting.
Real estate mogul Marc Paskin, known for his appearance on the ABC reality show "Secret Millionaire," paid $4,000 for the billboard that said: "All I want for Christmas is a Latina Girlfriend." The sign went up in the mainly Latino area of Barrio Logan on Thursday.
A day after the sign went up, someone ripped off Paskin's email address. By the weekend, the whole billboard was apparently taken down by vandals.
There's no word on whether Paskin will replace it — or whether he's found a girlfriend.
The bizarre billboard created a stir after it went up, particularly because Paskin, 63, remained mum about his intentions.
Paskin first gained fame after appearing on the reality show "Secret Millionaire." He also created headlines for his philanthropy, including once quietly handing out $125,000, a $10 bill at a time, to a Detroit neighborhood, and once giving a woman who lost his daughter and mother in a violent crime a check for a "free apartment for one year."
He has told the media he wants to die poor.
"When I die, no one will be at my funeral talking about my cash flow or how many properties I own," he told the San Diego Union Tribune recently. "But they will be talking about my heart, and how I used my success to help others in need. Giving back, helping others - to me, that is success, not the size of your bank account."
But he then added that his generosity – and his huge cash flow – has its limits.
"A guy from the Midwest sent me a several-page e-mail, saying he was almost 400 pounds and wanted money for a gastric bypass. A woman e-mailed me that she is poor and needs $500 for tires. People want help paying their mortgage," he told the website. "I feel bad for people in their situations, but I have to be very selective as to whom I help — I can't help everyone."
Paskin wife of 28 years died a decade ago of a diabetes-related illness. He has two adult children and three children. He claims he likes to travel, sing karaoke and dress up as Elvis Presley.
With reporting by The Associated Press.
Follow us on twitter.com/foxnewslatino
Like us at facebook.com/foxnewslatino