A controversial Teen Vogue columnist known for lobbing verbal bombs has topped herself with an especially vile tweet about beloved evangelist Billy Graham, who died Wednesday at 99.
"The big news today is that Billy Graham was still alive this whole time. Anyway, have fun in hell, bi--h," Lauren Duca tweeted.
Duca went on to say "'Respecting the dead' only applies to people who weren't evil pieces of sh-t while they were living."
Graham, who had been in ill health for a number of years, was regularly listed in polls as one of the "Ten Most Admired Men in the World."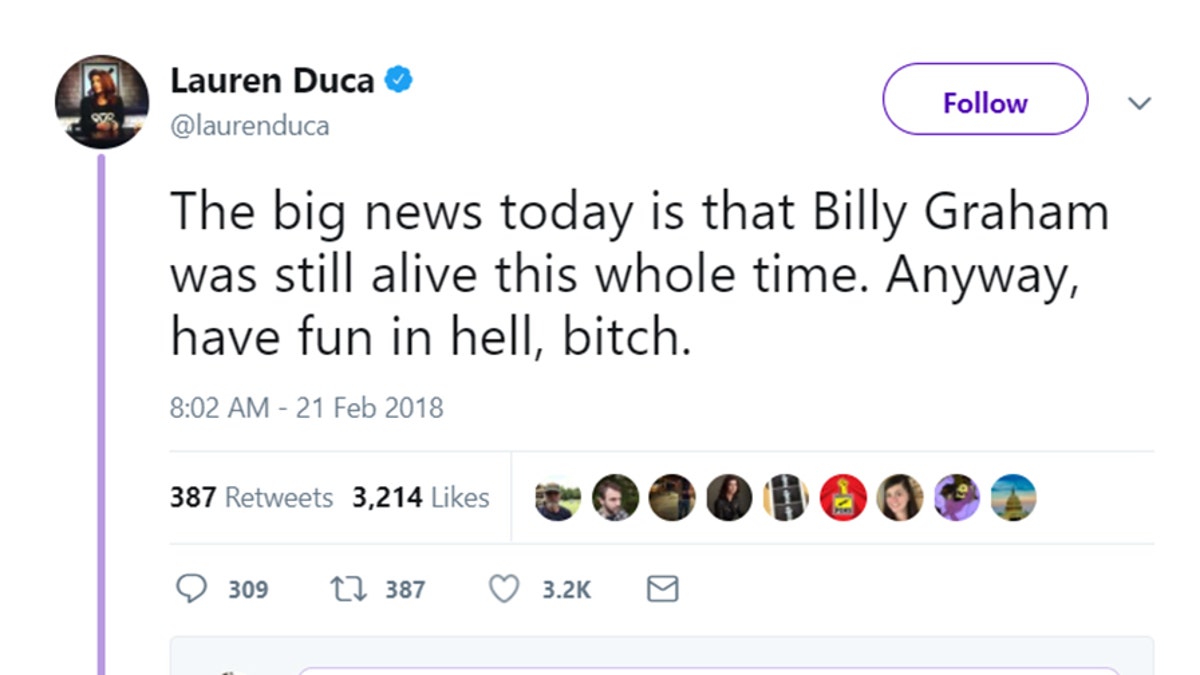 "To see just how out of touch some in the liberal media are, look no further than Billy Graham," Media Research Center's Katie Yoder wrote.
The comments were immediately assailed on Twitter by outraged users, including one named Vince, who called it "gross and despicable."
Duca gained national prominence by sparring with Tucker Carlson on Fox News in late 2016 and has since made donations to Planned Parenthood in Carlson's name. She has been outspoken about her disdain for President Trump and once tweeted a letter that Hillary Clinton reportedly sent her for showing "courage and poise" on the internet.
"Every time we mention Duca on this show, she gets more and more famous and more revered on the left. Maybe next week she'll be honored by the pope and the dalai lama. If we mock that, she could get the Nobel Prize for literature," Carlson said on his show last June.
Duca has also appeared on MSNBC and CNN at least six times, according to Yoder.
Graham, who transformed American religious life through his preaching and activism, becoming a counselor to presidents and the most widely heard Christian evangelist in history. He died at age 99 on Wednesday at his home in North Carolina.
It's unclear why Duca wasn't a fan of Graham, who was noted for consulting and praying with every president from Dwight Eisenhower to Barack Obama. In the 1960s, he ardently opposed segregation, refusing to speak to segregated audiences. Graham found himself the target of criticism in 2002 and again in 2009 following the release of tapes of 1973 conversations he had with Richard Nixon that were critical of Jews.
Graham also angered the LGBTQ community for disapproving of homosexuality with rhetoric that included asking if God judges people with AIDS. The Billy Graham Evangelistic Association has been accused of homophobia and anti-LGBTQ initiatives.
While Duca mocked him, Vice President Mike Pence called Graham "one of the greatest Americans of the century," and former President George H.W. Bush referred to Graham as "America's pastor."
President Trump and former Presidents Barack Obama, Jimmy Carter, Bill Clinton and George W. Bush have also all expressed condolences.
Teen Vogue did not immediately respond to a request for comment.
Fox News' Alex Pappas contributed to this report.