Susan Boyle vs. Jackie Evancho: Who Is Your Favorite?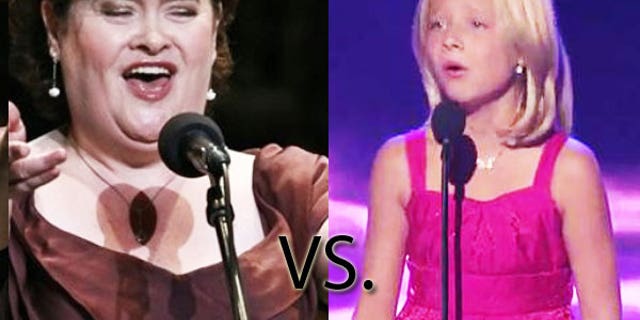 Susan Boyle has some stiff competition when it comes to the title of world's greatest unexpected singing sensation.
Jackie Evancho, the 10-year-old Pittsburgh native who appeared Tuesday's "America's Got Talent" has already wowed judges with her amazing opera skills and now she's advanced to the next round.
In 2009, Susan Boyle enjoyed a similar response to her performance on "Britain's Got Talent."
Both stars have attracted millions of views on YouTube. And while Susan Boyle's debut album broke records with pre-sales, Evancho has the potential to give her a serious run for her money.
CLICK HERE TO SEE SUSAN BOYLE'S AMAZING DEBUT PERFORMANCE FROM 2009.
Check out both performances from Evancho and Boyle below. (We couldn't embed Boyle's original performance because embedding that specific video is no longer allowed by YouTube. Go figure.)
Then vote in our Fox411 poll.