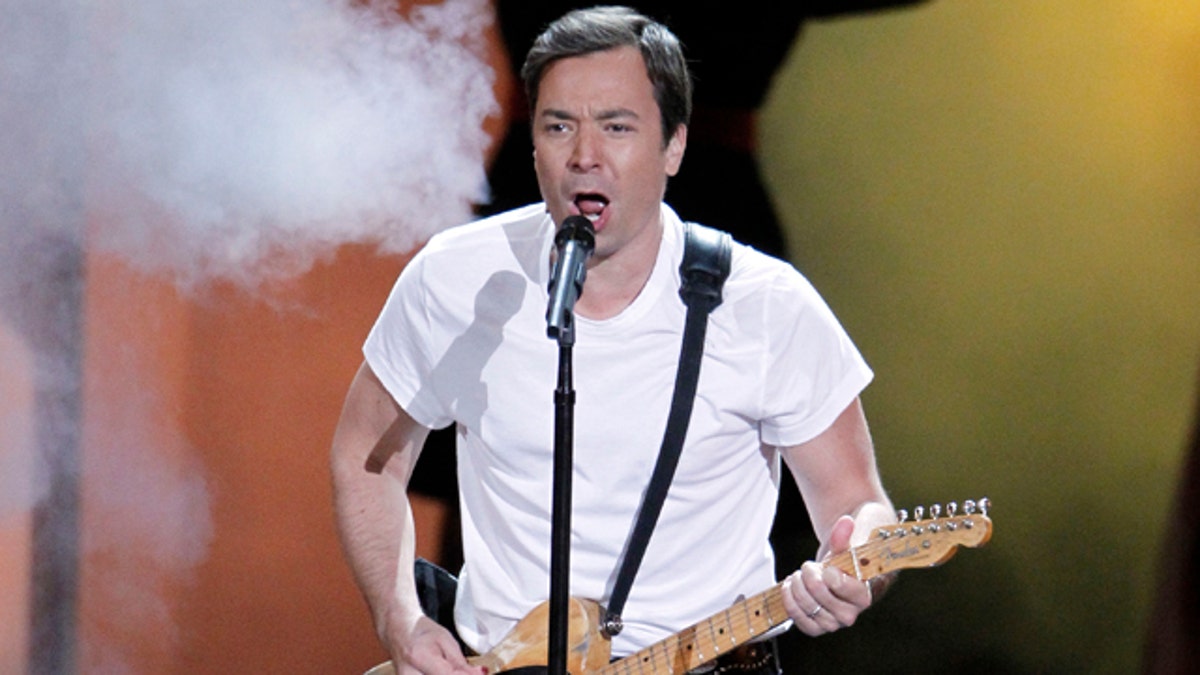 After being on his feet for three hours hosting the Emmy Awards, Jimmy Fallon couldn't sit down.
He stayed upright accepting hugs and congratulations from a steady stream of well-wishers Sunday night at the post-show Governors Ball, including Tina Fey, Amy Poehler and NBC Universal president and CEO Jeff Zucker.
"He did great," Fey said of her former co-star on "Saturday Night Live."
The ball was the first stop on the night's party circuit for many guests, who walked from the Nokia Theatre across the street to the Los Angeles Convention Center.
The football field-sized ballroom was decorated to the theme of "Starry, Starry Night," with thousands of tiny mirror balls dangling from the ceiling. A 565-pound disco ball encased in a glittering sun sculpture hung above the musicians, while giant glowing spheres representing each sign of the zodiac circled the dance floor.
Tucked inside the dinner menu was a list of zodiac signs, the nominees born under each of them, and characteristics of the signs.
Partygoers dined on dungeness crab salad, rack of lamb with dried fruit crumble and dark chocolate decadence with smoked fleur d'sel on a chewy fudge brownie. They washed it down with 4,416 bottles of red and white wine, champagne, and vodka cocktails.
Among the 3,600 celebrities and other invitees dining in close quarters were Wanda Sykes, Lily Tomlin, John Lithgow, Glenn Close and daughter Annie Starke, and Rainn Wilson of "The Office."
Tomlin's table had two empty seats, indicating the absence of George Clooney and his Italian girlfriend Elisabetta Canalis, who were no-shows after he received the Bob Hope Humanitarian Award.
Emily Deschanel of "Bones" walked into the vast space with a cell phone clamped to her ear as the Valli Boys sang "December 1963 (Oh, What a Night)" from high atop a podium above the Impluse Orchestra.
The musicians played such classics as "Route 66" and "Girl From Ipanema" during dinner, then gave way to current hits "Poker Face" and "I Gotta Feeling" that drew several partygoers to the circular dance floor surrounding the orchestra.
"I got a feeling. Do you have a feeling?" nominee Mariska Hargitay jokingly asked her friends.
Fey, a nominee and creator of "30 Rock," dug into her rack of lamb, a glass of white wine next to her plate.
Nearby, Fey's "30 Rock" castmates Jack McBrayer, Judah Friedlander, Scott Adsit and Katrina Bowden shared a table. Friedlander, whose character Frank wears trucker hats, topped his dressy clothes with a black hat reading "Best Undressed" in white letters.
Approached by a reporter, a smiling McBrayer said, "I'm a little tipsy," and hurried away.
Newlyweds Anna Paquin and Stephen Moyer of "True Blood dropped in, while recently married John Krasinski and Emily Blunt held court with Poehler of "Parks and Recreation," who gave birth to her second son earlier this month.
Jason Sudeikis of "Saturday Night Live" walked arm-in-arm with new girlfriend January Jones of "Mad Men." Jones kept an eye on the long A-line skirt of her dress by Versace Atelier, making sure no one stepped on it.
"I saw it in Italian Vogue and asked Donatella (Versace) if I could wear it for an evening. She's extremely generous," said Jones, who was glad to stand after sitting in the stiff dress during the three-hour Emmy telecast.
"Mad Men" won best drama series for the third consecutive year.
"It's crazy, a little intimidating," Jones said. "We're excited to go celebrate."
First-time Emmy winner Jane Lynch of "Glee" clutched her golden statue and happily posed for photos with fellow partygoers. Fey was equally gracious that way.
"Glee" creator Ryan Murphy carried his Emmy for comedy directing as he headed to the next bash.
"I was thrilled about Jane winning. I wasn't expecting to win," he said.
Murphy provided a preview of "Glee's" upcoming second season, saying, "It's really about the characters. It's smaller and more intimate."
Lynch's co-star, Lea Michele, stopped by the party while celebrating her 24th birthday surrounded by an entourage.
Julia Louis-Dreyfus, a nominee for her now-canceled comedy "The New Adventures of Old Christine," sipped a glass of wine in a brief moment standing by herself.
"I'm working on another show and hopefully it will be up and running in the next 18 months," she said, declining to be specific.
Cheryl Hines of "Curb Your Enthusiasm" called the evening "fantastic" as she headed off to HBO's party to have a martini with her TV husband, Larry David.
"Jimmy Fallon was so good," she said. "It's the best Emmys I've ever been to, and I've been to a few."