Snoop Dogg slams Colin Kaepernick for Castro praise, says choose between football, revolution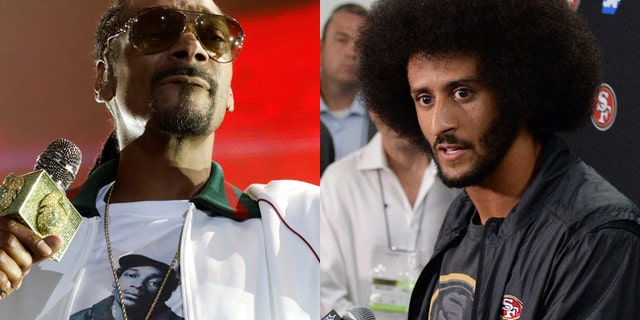 Snoop Dogg just put Colin Kaepernick in his dog house, calling the San Francisco 49ers quarterback a hypocrite for protesting social injustice while praising late Cuban dictator Fidel Castro, and advising he choose between football and his ongoing National Anthem protest.
"He's sort of kind of hypocritical in so many words because he's pushing this, but at the same time he's giving credit for this and this is the same abuse that [Cubans] been taking" the rapper said on Fox Sports 1's "Undisputed."
Snoop Dogg added, "So it makes you hypocritical to be able to speak on this topic and that topic."
The "Lay Low" singer was referring to Kaepernick's recent comments about Castro at a media event ahead of the 49ers game against the Miami Dolphins on Sunday.
"One thing that Fidel Castro did do is they have the highest literacy rate because they invest more in their education system than they do in their prison system, which we do not do here, even though we're fully capable of doing that," the quarterback shared.
The football player clarified his comments on the Cuban dictator after Sunday's game telling the press, "What I said was I agree with the investment in education. I also agree with the investment in free universal health care, as well as the involvement in helping end apartheid in South Africa. Trying to push the false narrative that I was a supporter of the oppressive things he [Castro] did is just not true. I said I support the investment in education, I never said I support the oppressive things he [Castro] did."
Snoop Dogg also commented on Kaepernick's national anthem protests saying that while he understands where the football player is coming from, he believes Kaepernick must choose between football and "being a revolutionary."
"In the beginning, I understood it thoroughly because I'm one who's had situations with police and I deal with it and I understand where he was coming from," the rapper said. "But at the same time, it's like you have to really stand for it and I don't believe he can do that and play football at the same time because there's too many rules and regulations and things that he has to deal with as opposed to being a revolutionary."