'Sherlock' star Amanda Abbington claims her purse was stolen at the 2016 Emmys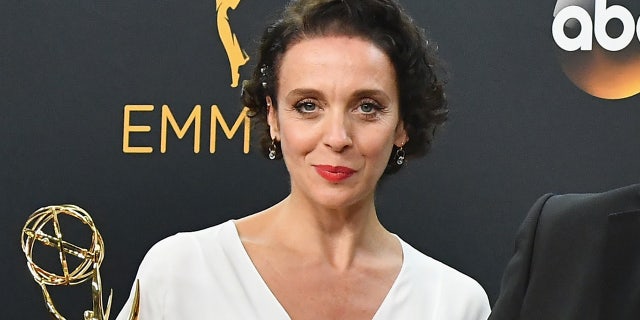 NEWYou can now listen to Fox News articles!
If only she knew a world-famous detective...
"Sherlock" star Amanda Abbington had a mixture of emotions on Sunday night at the 2016 Emmy Awards. The British actress, who plays Mary Watson on the popular BBC drama, went up with the rest of the cast to accept the Emmy for Outstanding Television Movie for the show's special, "Sherlock: The Abominable Bride."
MORE: 2016 Emmys: The Complete Winners List
But while she was out of her seat, Abbington, 42, claims that her purse was taken from under her chair. She took to Twitter late Sunday night to relay the information.
"Thanks for the lovely tweets re; the Emmy's. So pleased we won! Cool, right?" she began. "However, we went to up to collect the Emmy, did some press, came back to my seat and some bastard had nicked my purse from under my seat. Nice. Had my phone and driver's licence in it. So whoever took my purse, I hope some terrible Karmic s--t happens to you. How crappy is that."
The awards show has seat fillers to hold the winners' places, but Abbington did not note whether or not she saw someone in her seat after hitting the stage to collect the award.
WATCH: 2016 Emmy Awards: The Best, Worst and Weirdest Moments
Though "Sherlock" hasn't had a complete season since 2014, the show is set to return for Season 4 next year. It stars Benedict Cumberbatch as the famous detective Sherlock Holmes and Abbington's real-life partner and on-screen husband, Martin Freeman, as his trusty sidekick, Dr. John Watson.