Shawn Mendes texted rumored ex Hailey Baldwin following her engagement to Justin Bieber: 'I said congrats'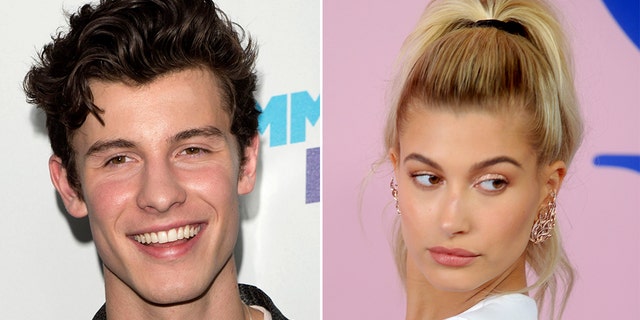 Shawn Mendes has nothing but love for Hailey Baldwin following her engagement to Justin Bieber.
The 19-year-old "In My Blood" crooner opened up about his thoughts on the model, and his rumored ex, getting proposed to earlier this month. Rumors began circulating that there was drama between the two singers, after Mendes went to the Met Gala with Baldwin and then she began dating Bieber.
"I texted Hailey the day of and I said congrats. That's what it is," Mendes told Dave Thornton in a sit-down interview with Australian show "The Project." "Everybody wants there to be more -- there's not."
Hailey Baldwin Deletes Her Instagram Photos With Shawn Mendes
Mendes, who also hails from Canada, even praised the "What Do You Mean" singer, saying, "Bieber was a massive influence for me growing up."
Rumors of Mendes dating Baldwin swirled for months. In October, the pair was spotted cozying up and holding hands at a Halloween bash in West Hollywood, California. Following their appearance at the Met, Mendes told People that they were "friends" and were asked to walk together by Tommy Hilfiger.
Meanwhile, Bieber and Baldwin surprised fans when they got engaged in the Bahamas on July 7, only a couple of months after rekindling their romance. The couple confirmed their engagement last week, with Bieber gushing about his fiancee on his Instagram account.
Shawn Mendes Has Full-On Harry Potter Geekout On 'Carpool Karaoke' -- Watch!
"Hailey I'm soooo in love with with everything about you!" he wrote. "So committed to spending my life getting to know every single part of you loving you patiently and kindly."
Last week, Kim Basinger, who is the ex-wife of Hailey's uncle, Alec Baldwin, and the mother of her cousin, Ireland Baldwin, revealed that the newly engaged twosome already have their bridal party picked out.
Hailey Baldwin and Justin Bieber Have Some of Their Wedding Party Picked Out, Says Kim Basinger
"Oh, it'll be fun," Basinger told Us Weekly of the couple's upcoming nuptials. "[Hailey's sister], Alaia, and Ireland, they're in the wedding. So, believe me… it's cool!"
"I think it's sweet. It's a very sweet thing. Happiness… We're living in some really dire times right now," she added. "I'm very, very happy for Hailey. I think it's a good thing,"