Shannen Doherty shares moving post-chemo snap: 'Hope is possible'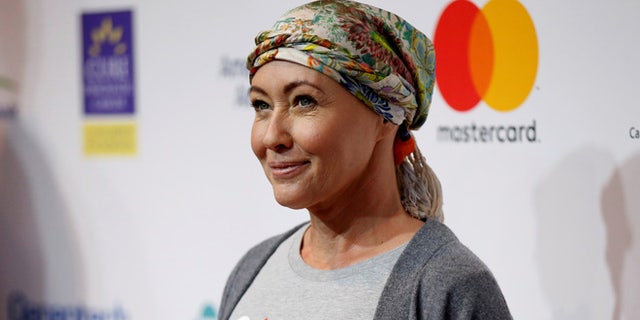 Shannen Doherty is holding on to hope.
The 45-year-old actress took to Instagram on Friday to share a moving black-and-white photo of herself recovering from a chemotherapy session, encouraging others battling cancer to "stay strong."
WATCH: Shannen Doherty Shares 'the Many Faces of Cancer' During Chemotherapy

"#fbf to a very short bit ago. Day after #chemoday isn't always so great," she captioned the snap. "Sometimes one isn't able to dance, or eat or even to think about the next day. Sometimes it just feels like you aren't going to make it. That passes."
"Sometimes the next day or 2 days later or 6 but it passes and movement is possible. Hope is possible. Possibility is possible," she continued. "To my cancer family and everyone suffering.... stay courageous. Stay strong. Stay positive. #wegotthis. #fightlikeagirl."
RELATED: Shannen Doherty Celebrates Five-Year Wedding Anniversary in Mexico Amid Cancer Battle
ET caught up with Doherty at last month's Stand Up to Cancer telecast, where her oncologist, Dr. Lawrence Piro, revealed that she was "nearly finished" with chemotherapy -- an accomplishment Doherty says comes from the courage she's gained from her fans.
"I hope they take away the fact that you have to be strong and put yourself out there and have courage and be a warrior," she shared. "And for me, one of the most important things is for them, their messages, their stories, their love, their support has given me courage. And I thank them for that wholeheartedly."
RELATED: Sarah Michelle Gellar Praises Friend Shannen Doherty on International Breast Cancer Day