Shane Gillis gets support from 'SNL' alum Rob Schneider after being fired over racial slurs
Shane Gillis has at least one "Saturday Night Live" player in his corner: "SNL" alum Rob Schneider.
The "Hot Chick" star tweeted Monday, "@ShaneMGillis as a former SNL cast member I am sorry that you had the misfortune of being a cast member during this era of culture unforgiveness where comedic misfires are subject to the intolerable inquisition of those who never risked bombing on stage themselves."
Gillis was fired from the NBC late-night staple after a YouTube video surfaced of him using a racial slur while discussing a Chinatown neighborhood with another comedian.
ANDREW YANG: NEW 'SNL' CAST MEMBER SHANE GILLIS SHOULDN'T LOSE HIS JOB OVER RACIST REMARKS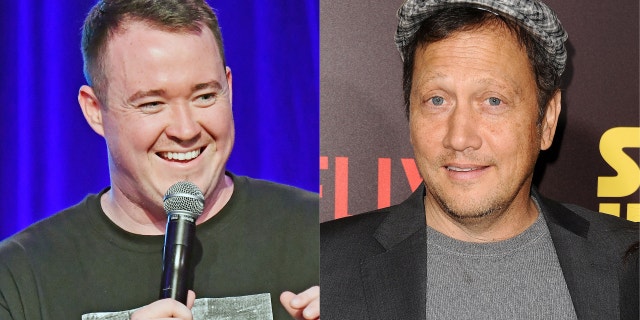 Gillis responded to the backlash on Thursday, hours after the comments first resurfaced.
"I'm a comedian who pushes boundaries. I sometimes miss. If you go through my 10 years of comedy, most of it bad, you're going to find a lot of bad misses," he tweeted. "I'm happy to apologize to anyone who's actually offended by anything I've said. My intention is never to hurt anyone but I trying to be the best comedian I can be and sometimes that requires risks."
'SATURDAY NIGHT LIVE' ADDS THREE CASTMEMBERS, INCLUDING FIRST ASIAN AMERICAN COMIC
ANTHONY JESELNIK SAYS 'SNL' PRODUCER LORNE MICHAELS HELPED GET TRUMP ELECTED: 'I WAS DISGUSTED BY IT'
It apparently wasn't enough for "SNL" and NBC brass.
"After talking with Shane Gillis, we have decided that he will not be joining SNL," an "SNL" spokesperson on behalf of Lorne Michaels, the iconic series' creator and producer, confirmed to Fox News. "We want SNL to have a variety of voices and points of view within the show, and we hired Shane on the strength of his talent as a comedian and his impressive audition for SNL.
KATHY GRIFFIN SLAMS 'SNL' PRODUCER LORNE MICHAELS
"We were not aware of his prior remarks that have surfaced over the past few days. The language he used is offensive, hurtful and unacceptable. We are sorry that we did not see these clips earlier, and that our vetting process was not up to our standard."
'SATURDAY NIGHT LIVE' TAPS ALUM EDDIE MURPHY, TAYLOR SWIFT AND MORE FOR SEASON 45
Gillis later tweeted, "Of course I wanted an opportunity to prove myself at SNL, but I understand It would too much of a distraction. I respect the decision they made. I'm honestly grateful for the opportunity. I was always a mad tv guy anyway."
CLICK HERE TO GET THE FOX NEWS APP
Democratic 2020 presidential hopeful Andrew Yang also somewhat defended Gillis, saying he shouldn't lose his job. Gillis is slated to meet with Yang for a discussion.
Fox News' Jessica Napoli contributed to this report.