'Shameless' actress Emmy Rossum's departure from Showtime series was expected says co star William H. Macy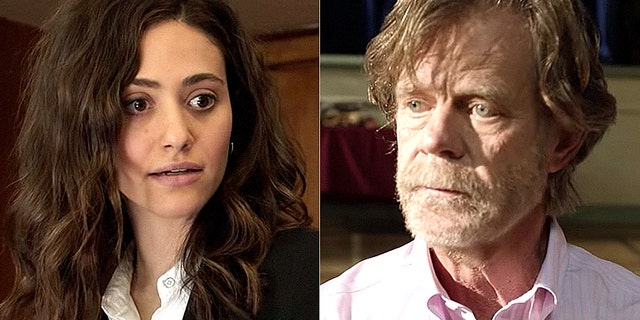 NEWYou can now listen to Fox News articles!
William H. Macy has weighed in on his "Shameless" co-star Emmy Rossum leaving the Showtime series.
"We've been expecting it," Macy told Entertainment Weekly. "I tell you, when you get to season 9 and you think of [whether] to keep going, it's daunting. 'What would my life be post-'Shameless?' And part of it is very frightening and part of it is very exciting."
Macy, 68, and Rossum, 31, have already appeared on eight seasons of the show as Frank Gallagher and his eldest daughter Fiona, respectively. Season 9 will kick off on Sept. 9.
As for Rossum's decision?
"She's young and I think she's made the right choice," Macy added. "She's got another show that she's an executive producer on, so she's going right into something and she wants to branch out. Plus, she just got married. I wish her well. I can't wait to see what she's going to do next."
Rossum announced she will be leaving the show in a lengthy Facebook post on Thursday.
'SHAMELESS' STAR EMMY ROSSUM LEAVING THE SHOWTIME SERIES
In her message, Rossum called the opportunity to play Fiona a "gift," saying the character was a strong woman who never gave up.
"Quite simply, the last eight years have been the best of my life," she shared.
Rossum also expressed her appreciation for her co-workers on the comedy-drama.
"I can say for certain that this cast and crew, who I've been truly honored to work alongside, are world class. I am proud and I'm filled with gratitude," she wrote.
CNN PULLS ASIA ARGENTO'S EPISODES OF ANTHONY BOURDAIN'S 'PARTS UNKNOWN'
Rossum made headlines in 2016 following salary negotiations. She asked Showtime for the same salary as Macy, and revealed later that she got the pay parity she wanted.
"We were saddened when Emmy Rossum let us know that the upcoming ninth season of Shameless would be her last," Showtime Networks President of Programming Gary Levine said in a statement.
"But we are filled with an overwhelming sense of joy and gratitude for Emmy's inspired work on our series, of course in front of the camera but also behind it. Fiona Gallagher will always be one of Showtime's iconic characters, and we applaud Emmy for bringing this character to life in such a natural, touching and fearless performance. On behalf of everyone at Showtime and her millions of fans, we thank you Emmy!"