Shakira Posts Donkey Cup Video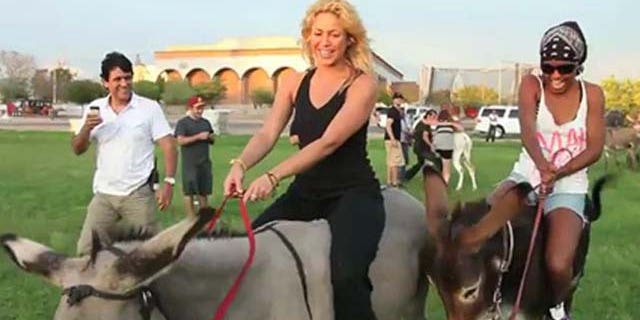 Shakira finally gave us the goods -- well, at least the backstory on the picture of her riding a donkey which appeared a few months back.
The Colombian hip trembler took to social media and tweeted the video of the star racing against her staff in what she dubs the "Donkey Cup," in Sonora Mexico.
At first Shakira is hesitant to ride the donkeys, but once she gets into it she even makes it to the final round of the championship.
"I'm not going to ride a donkey," Shakira said. "I've already been told that they get crazy and I don't want to be thrown on the floor."
The Baranquillera went head-to-head with her staff as she laughed uncontrollably seeing her crew fall and argue with the donkeys to win the race.
"I'm going to win the Donkey's Cup," Shakira shrieked.
Unfortunately, Shakira finished in third place, which she was very content with.
"Well, third place isn't so bad," Shakira said with a smile.
You can reach Alexandra Gratereaux at: Alexandra.Gratereaux@foxnewslatino.com or via Twitter: @GalexLatino
Follow us on twitter.com/foxnewslatino
Like us at facebook.com/foxnewslatino