Scott Baio denies sexual assault allegations by 'Charles in Charge' co-star Nicole Eggert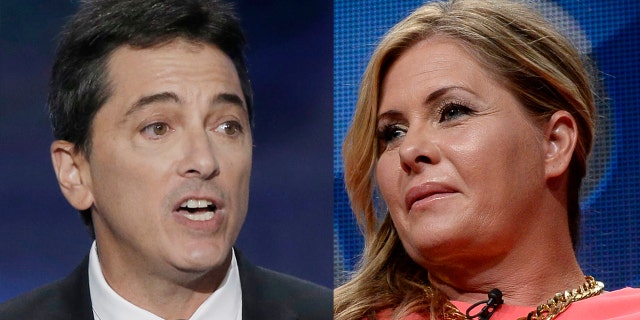 Actor Scott Baio took to Facebook on Saturday to address and strongly deny accusations made by his former co-star on "Charles in Charge" that he molested her.
In a series of tweets on Saturday, 46-year-old actress Nicole Eggert claimed she was "molested" repeatedly from the time she was 14 until she was 17.
"Ask @scottbaio what happened in his garage at his house when I was a minor. Creep," the series of tweets by Eggert began. She subsequently deleted tweets published in E!News and The New York Post where she wrote "A molested child is irrelevent? That is what u r saying?" and "I was 14,15,16 and 17."
Baio himself then responded on Twitter, saying he was going on Facebook Live to "prove her claims are 100% lies!" and to tell "the truth."
"I'm here today to talk about some allegations that have been made against me that aren't true by somebody named Nicole Eggert," Baio said in the 16-minute video. "The reason I'm doing Facebook Live is because nobody can edit me, nobody can change what I said. These are my words. And what I'm telling you is the truth."
Baio told viewers his "reputation is being damaged" and that "My family is being put through this and I'm done. I'm done."
He then walked viewers through his version of events, as his wife could be heard off camera.
Baio said once Eggert was 18, they had a consensual sexual relationship instigated by her, and that she "seduced" him. The actor posted pictures to Twitter of a script which he said proved she was already over 18.
"Now, any normal, heterosexual, red-blooded, American guy, the outcome would have been the same, the same thing would have happened," he said. "She seduced me. She came in the house and started kissing me."
The actor said that Eggert was recently scheduled to go on the Dr. Oz show, and a producer had contacted him about her claims. After his legal team sent the show a "persuasive" letter, Eggert's appearance was then canceled, according to Baio.
He also posted on Twitter copies of letters from his lawyers to show producers.
Baio's wife, Renee Baio, also replied to the former "Baywatch" star, tweeting that her husband's legal team served her with two cease-and-desist letters.
"Scott's legal team has served u more than 2 cease & desist letters,1u pretended 2B a Nanny & @DrOz killed ur show!" she wrote.
Baio also referenced remarks Eggert made about him during a 2012 interview with Yahoo where she said "I would love to work with him again.'
"There are a lot of weird, strange rumors about things that went on between us, but we became really good friends and everything is way more innocent than it was made out to be," Eggert told Yahoo at the time.
The "Joanie Loves Chachi actor" ended his Facebook Live video by saying, "I don't know what else to put out there. She's my best friend in the world, then all of a sudden I'm the bogeyman."
JEREMY PIVEN FACES, DENIES MORE MISCONDUCT ALLEGATIONS
"The problem with this, in almost all he said/she said cases it's just said/she said. Now, go prove it or disprove it. The real problem with this is people with legitimate claims aren't taken seriously, and that's too bad," he added.
Eggert has not commented further since her initial set of Twitter posts.
"Charles in Charge," which aired from 1984 through 1990, was a sitcom about a college student who worked as a live-in housekeeper for a family with three children.
The Associated Press contributed to this report.