San Diego Latino Film Festival Highlights US Latino Experience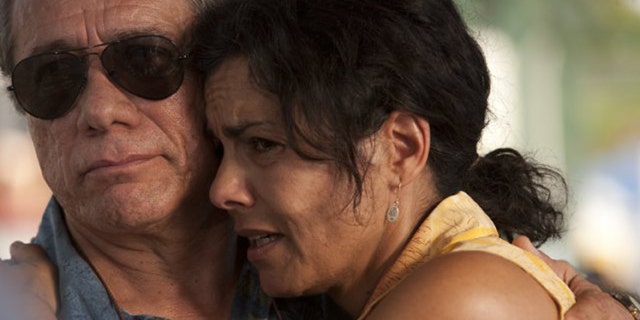 Today, for the first time in 19 years since it's inception, the San Diego Latino Film Festival will look inward--reflecting on the experiences of Latinos and their relationship to the United States. Over 160 films will screen and 20,000 people are expected to attend the ten-day fest. Directors, actors, and audience members will travel from around the globe to descend on San Diego.
Located only 15 miles from the Tijuana, Mexico, the most frequently crossed international border in the world, the festival began as a grassroots college film event, but has grown into one of the most prominent showcases for emerging and established filmmakers in the world.
Artistic Director Lisa Franek and Associate Program Director Glenn Heath viewed over 500 film submissions and attended several film festivals worldwide before choosing the 50 narrative features, 15 documentaries, and over 100 short films.
Expedition's Quest for Mayan Gold Finds...
Tucked under the umbrella of thematically Latino films, the festival includes a plethora of categories, where each year the festival highlights a country and premiere films relating to that country. This year the festival's spotlight is the U.S.
"Many of our audience members live here, and looking at the census numbers this year, and understanding the significance of Latinos being the fastest growing minority in the country, the U.S. couldn't be ignored. But Latino culture is not monolithic.
It's a melding of different cultures, folks who embrace America and still hold onto their own cultures. And there are immediate issues, like immigration, relating to Latinos today," says Franek.
The film America featuring Edward James Olmos and an incredible lead performance by talented newcomer Lymari Nadal.
Audiences will also see films from the New Chilean Directors Showcase category, presented by the Chilean Ministry of Foreign Relations.
"We've been following these exciting film makers for about a year. Chile has a rich history in film. Look at the documentary filmmaker Patricio Guzman, internationally renowned for his films Salvador Allende and the Battle of Chile. And this new generation brings a very distinct and exciting voice to the festival," Heath says.
Star Wars School Teaches Children Martial Arts in Chile
Films like Mi Ultima Round, the love story between a boxer and a kitchen worker, and Musica Campesina, starring Pablo Cerda, as Alejandro Taza, a musician who dreams of making it big as a country singer in Nashville.
In 2005, the SDLFF lineup added the Cine Gay films.
Franek says, "Ironically although the Latino community is predominantly perceived as Catholic and not particularly gay-friendly, it's easy to find good films from Latin America with gay content. It's important to show our audiences that the same issues exist around the world. And even in mainstream films, the gay community is horribly under-represented."
The buzz is audible surrounding the film La Otra Familia. The gut-wrenching drama directed by Gustavo Loza. It's the story of seven-year-old Hendrix, who faces a life of uncertainty after he's abandoned by his drug-addicted mother, and left to be cared for by a gay couple, played by Jorge Salinas and Luis R. Guzman.
For the first time ever, the festival has added a new element with the "Latinos On TV" department. These popular TV actors will make guest appearances, present their work, and speak at question and answer sessions.
Man Arrested for Stealing Ice From Glacier and Selling it to Bars
Actors like Michael Delorenzo from New York Undercover, David Zayas from Dexter, and Judy Reyes from Scrubs to name a few. We wanted to honor the great talents on US TV. They're playing key characters and we want to show the diversity of Latino artists. Many Latinos actors have migrated from film to TV, giving them an opportunity to show their range over several episodes and long seasons," Heath says.
Heath and Franek both say the ultimate goal of the festival is to provide a platform for audiences to see films that may never make it to multiplex theaters and to engage with the artists who make and work in these films. "We want to open dialogue and get people thinking about their communities. We'd like everyone to be apart of the festival. It facilitates understanding—whether you're Latino or not," Franek says.
Rebekah Sager is a fashion contributor based out of San Diego, Calif. You can reach her at: Rebekah@shoplocalsd.com
Follow us on twitter.com/foxnewslatino
Like us at facebook.com/foxnewslatino