Ryan Reynolds targets Hugh Jackman in mock political ad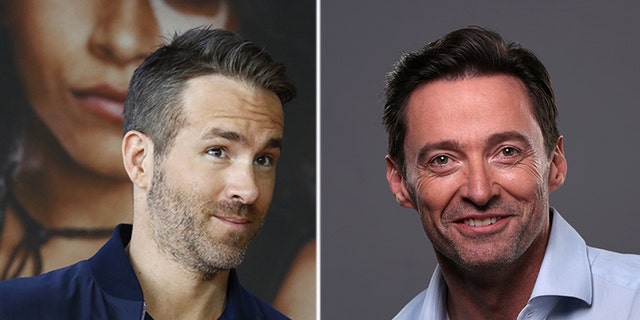 Hugh Jackman once again appears to be the focus of fellow actor Ryan Reynolds' off-kilter sense of humor, with the "Deadpool" star releasing a mock political ad about "The Greatest Showman."
The parody, released on social media, on Friday, runs for just over 40 seconds and talks about Jackman's latest movie, "The Front Runner," in which he portrays onetime presidential candidate Gary Hart. By Reynolds' reckoning, Jackman "has fooled some people into thinking he deserves an award."
"But before voting begins, some people should consider these facts," the video says, before going on to note that "Hugh Jackman isn't his real name."
RYAN REYNOLDS TROLLS BLAKE LIVELY OVER RISQUE INSTAGRAM PIC
It's actually "Hugh Michael Jackman," the video says, as a birth document highlighting the actor's middle name appears on the screen.
"Hugh Michael speaks with a charming accent but he's actually from Milwaukee," the video said, adding that Jackman contributed to the nation's unemployment rate by walking "off the job on 'Wolverine.'"
"Is this the type of amazing actor and nice person we want delivering a preachy liberal speech this award season?" the video says. "Or maybe there's a real foreigner from a bordering country who would really love it. A lot."
BLAKE LIVELY TEASES RYAN REYNOLDS ABOUT AVIATION GIN'S TRUCK ADVERTISEMENT
At that moment, an image of Reynolds, who according to USA Today was born in Canada, is seen.
"I'm not Ryan Reynolds and I approve this message," the video continues.
Jackman, who portrayed P.T, Barnum in "The Greatest Showman" and has repeatedly played X-Men superhero Wolverine, reacted on Twitter with his own video captioned "HIGH ROAD." In the clip, Jackman is seen cleaning up dog droppings from atop a photo of Reynolds.
Reynolds has poked fun at his friend's expense in the past, including in "Deadpool 2."
Fox News' Jennifer Earl contributed to this report.