Rumer Willis opens up about excruciating process of removing her tattoos: 'It's awful'
LOS ANGELES – Rumer Willis wanted a change in her life that signified life growth.
The eldest daughter of Bruce Willis and Demi Moore detailed the intense pain she endured over the course of removing multiple tattoos from her body including a lion's head on her left shoulder.
"It's awful, it's awful. I'm very lucky that a lot of my big ones were super light – but when people said that it hurt, I just had no idea," she told reporters Thursday at the annual amfAR Gala in Beverly Hills, Calif.
"I just kind of had a moment where you know, I got a lot of them when I was very young and I'm lucky to live in a time where it's very accessible to be able to take them off. But, it just didn't feel like me anymore, so I just thought to change it up."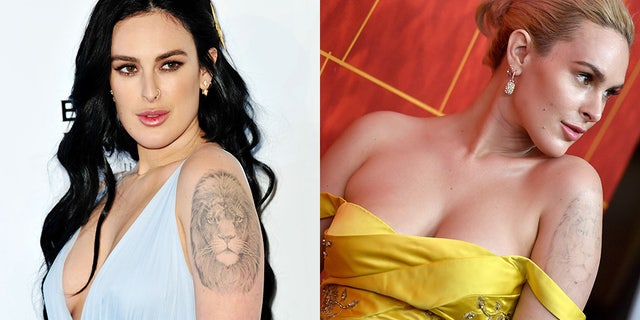 Willis, a former "Dancing With the Stars" Mirrorball champion showcased her progress on Thursday when she bared her arms in a bright yellow, off-the-shoulder gown that exposed substantial cleavage along with her fading tattoo.
She explained to reporters that removing the ink signaled a new chapter in her life.
"I turned 30 this year, and I think it's really important," she said. "I think sometimes it's so easy, especially right now in the world to focus on the negative and what's going on in the world, and I think it's just really important to find gratitude every day even in tiny little things – whether it's that you have a job or that you have your house of your family or your legs even – just whatever it is and find the small gratitude, I think it's really important."
The Kentucky-born singer and former step-daughter of Ashton Kutcher is currently shooting Quentin Tarantino's "Once Upon a Time in Hollywood" where she plays Joanna Pettet, the friend of Charles Manson murder victim Sharon Tate.