Royal family releases first official portraits of Prince George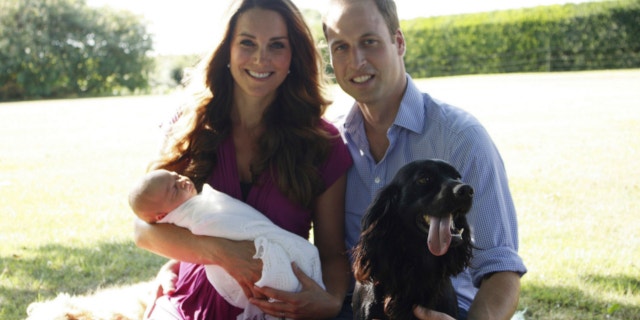 LONDON – Prince William and the Duchess of Cambridge have bypassed professional photographers and chosen family snapshots for the first official images of their new son, Prince George.
Royal officials on Tuesday released photos of Kate holding the swaddled baby while standing beside William -- and in one image, the couple's cocker spaniel, Lupo. The pictures were taken by Kate's father, Michael Middleton, in the family's backyard.
The casual images are a departure from the royal tradition of hiring professional photographers for baby portraits.
Professionals gave the snapshots a mixed review. Martin Keene, head of pictures at the Press Association news agency, said "any photographer would have been pleased to have taken them." But The Sun newspaper's veteran royal photographer, Arthur Edwards, advised Michael Middleton: "Don't give up the day job."