Robert Pattinson Is the Web's Top Star This Week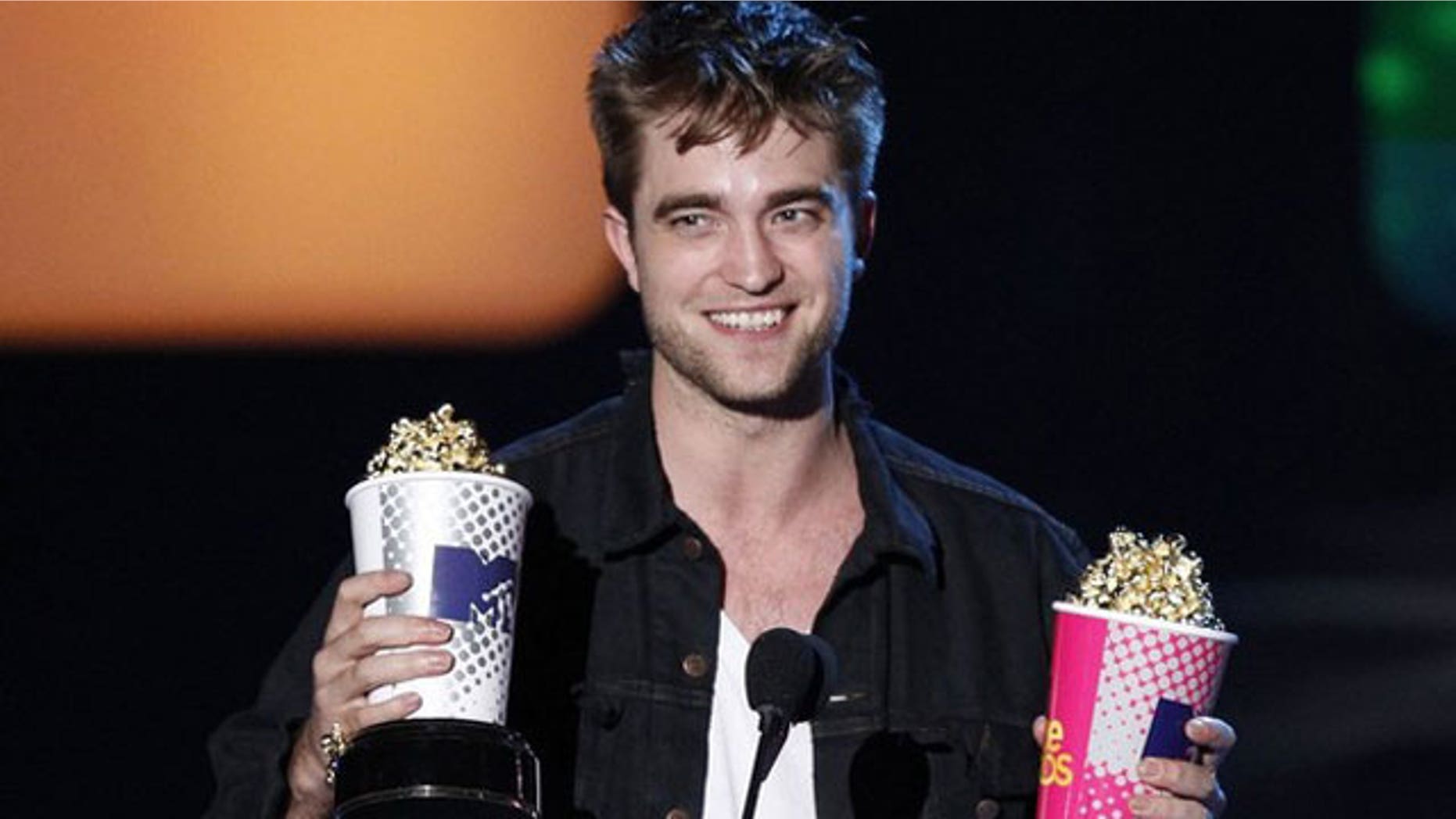 Having no trouble climbing above the pack upon his desire, actor  Robert Pattinson earned the top spot on the GossipCenter Hot 45 list during a full throttle week of promotional efforts tied to his upcoming movie "Water for Elephants".
The "Twilight" heartthrob ousted last week's champ  Kim Kardashian while fending off surges by runner-up  Katy Perry and third place finisher  Demi Lovato.
Let's see how this all played out.
He's one of the most adored actors to grace the big screen, and Robert Pattinson showed no signs of slowing down after captivating Internet browsers with a plethora of "Water for Elephants" press related interviews and appearances over the past seven days.
Among the highlights, the English actor was caught sharing a rare PDA moment with girlfriend  Kristen Stewart following his movie's NYC premiere while also opening up during visits to the "Tonight Show," the "Ellen DeGeneres Show" and "Jimmy Kimmel Live!". Starring alongside Reese Witherspoon, Rob's book-based circus flick "Water for Elephants" hits theaters on Friday, April 22nd.
Right on Rob's coattails, the always-high-ranking Katy Perry churned out another second place effort. The 26-year-old started off the week by attending the Coachella Music & Arts Festival before jetting overseas to join husband  Russell Brand at the UK premiere of "Arthur". And while she was already doing well for herself on the Hot 45 List, Katy's big surge came at week's end thanks to her stage appearance on Thursday night's "American Idol" during which she performed her song "E.T." alongside Kanye West.
Rounding out the Hot 45 List top three was recuperating Disney damsel Demi Lovato – who is trying to get her career back on track after spending months in a treatment center in Illinois. While Miss Lovato has been careful not to overwhelm herself, the 18-year-old Dallas native drew plenty of attention after announcing her planned departure from "Sonny with a Chance" while also opening up about her battles with bipolar disorder, bulimia and cutting during a sitdown with "Good Morning America".
As for the big movers of the week, the always-entertaining  Tina Fey shot up from the 100's to ninth place following a week in which she paid a visit to the "Ellen DeGeneres Show" while also offering up a candid interview for GQ's May issue.
During the chat, Tina touched on the subject of breast pumps, saying, "Yeah, the thing's upsetting. I would try to pump milk while watching Entourage on demand. And that was the worst possible way to do it. Like, I had the pump on, and I'd hear Turtle on TV: Yo, E, you ever f**k a girl when she has her period? I just sat there thinking: Oooh, this is not how this is meant to be."
Joining Miss Fey as a big riser,  Evan Rachel Wood ascended from obscurity to capture the 11th slot after her Esquire May 2011 interview went public – during which the redheaded hottie revealed her taste for "androgynous things" including relationships with both guys and girls.
And while Evan and Tina both were on the up and up,  Kate Hudson found herself on the opposite end of the GossipCenter Hot 45 List. The typically popular actress sunk from the top 20 all the way to 117th thanks to a press-free week as she moves closer and closer to her due date while expecting her first child with Muse musician beau Matthew Bellamy. The baby on the way will join Kate's son Ryder from her previous marriage to rocker Chris Robinson of the Black Crowes.
The Gossip Center Hot 45 List is calculated by looking at the popularity of the site's hottest stories, and determining which stars are on the rise, and who is crashing and burning. All of the articles, pictures and videos on the Gossip Center Network are scanned for activity, and the rankings are updated several times a day.