Robert De Niro gets back in the ring for biopic about boxing great, Roberto Durán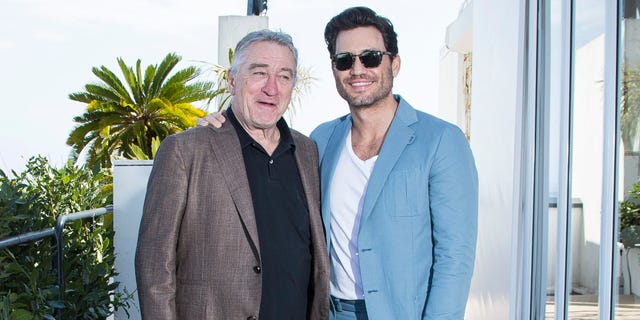 NEWYou can now listen to Fox News articles!
CANNES, France – While actor Edgar Ramírez was in training for his role as the boxing great, Roberto Durán, his Oscar-winning co-star Robert De Niro enjoyed the gastronomical fare in Panama.
"I saw him working so hard and so disciplined. I was glad it wasn't me," said De Niro shortly after their film "Hands of Stone" debuted at the Cannes Film Festival. "Great job!"
Ramírez, who worked out extensively for the part, shook his head. "He was hitting the best restaurants in Panama whenever we had a day off. I just stayed in my apartment."
In Jonathan Jakubowicz's biopic, De Niro plays the trainer Ray Arcel, while 39-year-old Ramírez plays Durán, the Panamanian who many rank as the greatest lightweight fighter of all time.
"Hands of Stone" – the English translation of Durán's nickname, "Manos de Piedra" – which the Weinstein Co. plans to release later this year, arrives more than 35 years after De Niro portrayed the boxer Jake LaMotta in Martin Scorsese's "Raging Bull," for which he won an Academy Award as Best Actor.
That movie that remains the title-holder of greatest boxing film, revered for its monochromic cinematography and dark, emotionally disturbing story.
De Niro originally met Arcel, the trainer of 18 world champions, while making "Raging Bull."
"I got a sense that he had a real elegance and an aura about him that's not typical of trainers," said De Niro.
"Hands of Stone," a rags-to-riches tale with the rivalry between Durán and Sugar Ray Leonard – a fleet-of-foot Usher – thrown in, is a more meat-and-potatoes boxing drama, with the benefit of local Panama atmosphere. (Parts of it were shot there.) Variety said it "punches ahead in a conventional, aggressive, no-frills way."
"I didn't have to do it, I just wanted to do it," said De Niro. "I wanted to make sure that they went in the right direction."
De Niro, 72, might have been expected to leave the boxing ring long ago, but he returned to it in the 2013 comedy "Grudge Match," in which he and Sylvester Stallone played aging rivals coaxed back into the ring for a fight.
Few actors, though, are more appropriate for the role of boxing mentor. De Niro isn't one to lecture on acting, but he does preach minimalism in performance.
"Actors sometimes tend to think, 'I'm not doing enough.' The fact is, you don't have to do anything in some cases. Doing nothing is all that you need to do," De Niro said. "That's a hard thing to do, not doing anything."
At the premiere of "Hands of Stone," Cannes hosted a small tribute to De Niro, which left him teary-eyed. The festival has long welcomed the actor. Forty years ago, "Taxi Driver" won the Palme d'Or, and before that, "Mean Streets" played in the Directors' Fortnight section.
Based on reporting by the Associated Press.
Like us on Facebook
Follow us on Twitter & Instagram