Rielle Hunter describes sex with John Edwards; calls his deceased wife 'witch on wheels'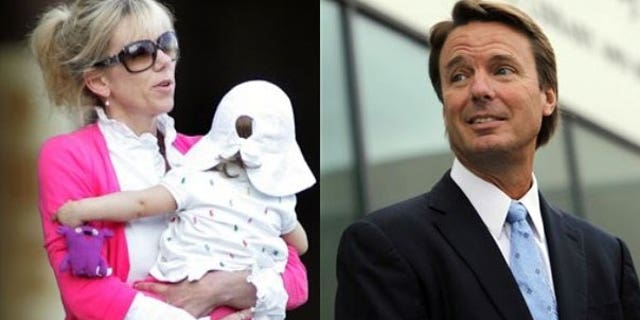 John Edwards' mistress Rielle Hunter breathlessly recalled how the former senator dominated her in the sack during their first steamy tryst — calling it the "most extraordinary night of my life" in her new tell-all tome.
"And then a moment came while we were talking when something in my heart clicked and I surrendered. I took off my teacher hat, let go of all my resistance to him and let him lead.
"And lead he did," Hunter, 48, gushed in the book, "What Really Happened: John Edwards, Our Daughter, and Me."
"He led me toward the most extraordinary night of my life. There was a lot of talk, a lot of laughter and zero sleep."
RELATED: More book excerpts at People.com.
[pullquote]
The disgraced senator — who once called Hunter, his baby mama, a "crazy slut" — would have long, romantic talks with her on the phone as he traveled.
"Love does evolve you and encourage you to behave differently. Was he in love with me? That night began our frequent extended phone conversations, usually four hours in length . . . He said he found me to be so refreshing and couldn't believe how easy I was to talk to," wrote Hunter.
The affair was apparently a religious experience for Edwards, who adopted some of the New Age terms Hunter often used.
"He also told me that I was the first person in his life to give him energy instead of taking it," she wrote.
Hunter also blasted Edwards' marriage to Elizabeth, who was suffering from breast cancer as her husband cheated on her Excerpts released earlier this week showed how much Hunter despised Elizabeth, who died in December 2010.
She described "Johnny's" wife as a "witch on wheels," "crazy" and "venomous."
The cringe-worthy details in her memoir — which had been rejected by major book publishers — comes just two weeks after Edwards was acquitted of charges that he subverted campaign finance laws to hide the affair.