Post 'Breaking Bad,' is New Mexico the new Hollywood?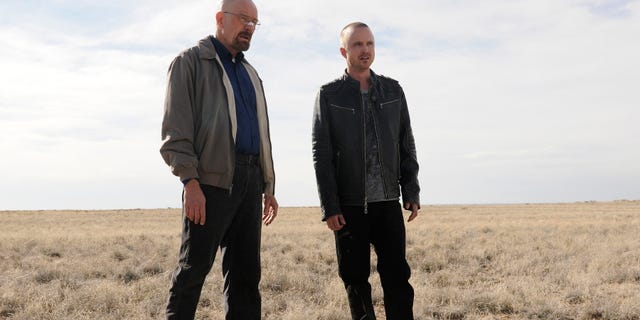 NEWYou can now listen to Fox News articles!
LOS ANGELES – New Mexico owes Walter White big time.
The popular AMC series "Breaking Bad," set in Albuquerque and currently airing its final season, has played a prominent role in putting its home state on the map when it comes to big Hollywood productions.
In April, Governor Susana Martinez signed new state legislation – referred to as "The Breaking Bad Law" -- that increased the state's rebate for series television production to 30 percent of a producer's qualified outlay. Feature films are also eligible for a 30 percent rebate on resident labor if they use a qualified production facility, and 25 percent off their other expenses.
So far, its working. The New Mexico Film Office recently announced that a six-episode docudrama "Gunslingers," centered on famous outlaws and lawmen of the Old West, would film in Santa Fe through September, employing 60 New Mexico crew members and 300 local actors and extras. ABQ Studios, the home of "Breaking Bad," also revealed that two major network television series – "The Night Shift" for NBC and "Killer Women" for ABC – are underway.
"We anticipate greater interest from both television shows and movie productions due to the new law," Dayna Gardner, Director of Communications in the Office of the Mayor, City of Albuquerque, told FOX411's Pop Tarts column. "The industry provides jobs for our citizens that are high-paying and creative. Local companies also benefit from having a production here, like lumber companies, hotels and restaurants, travel agencies, sign companies… in fact, almost all local businesses profit in some way. When 'Breaking Bad' was filming, the direct spend per episode shot over eight days, was approximately a million dollars to the city."
Even before New Mexico announced these fresh incentives, the state was already an emerging Hollywood hotspot. Big movies like Jennifer Aniston's "We're the Millers," Johnny Depp's "The Lone Ranger," Denzel Washington's "2 Guns" and Marvel's "The Avengers" filmed in Albuquerque, and, at least in some of those cases, pumped millions into the state economy. For example, while New Mexico paid nearly $23 million in tax credits to the producers of "The Avengers," it benefited from over $90 million in production spending.
"The often overlooked benefit isn't just the employment of residents," noted J. David Williams, the President and CEO of prominent Film Finance and Marketing company FilmCrest. "It's the actual making of careers for those residents."
But New Mexico isn't the only state luring the entertainment community.
"New Mexico was one of the first to offer generous incentives, but so many states have since jumped on the bandwagon. 42 states now offer incentives," explained Ted Johnson, Deputy Editor of Variety. "It is competitive between these states, and one of the criticisms in California is that there hasn't been a coordinated effort to make sure these productions happen here. It's a no-brainer; (filmmakers) can't go to their bosses and say 'we have to shoot in L.A. because we love it here.' It starts with the budgeting."
Dana Arnold, President and CEO of Pacifica Ventures in New Mexico, stressed that there are "so many factors that weigh on how a production selects where to shoot," but boosters say New Mexico has a lot to offer.
"310 days of sunshine, and close proximity to Los Angeles gives us an edge over other states that also offer film incentives," boasted Albuquerque Mayor Richard Berry. "We have a plethora of location looks – from big city to small town; from desert on the edge of town to Ponderosa pines and a 10,600 foot mountain to the East."
However, there has been a growing push directed from studios, filmmakers and local officials to bring Hollywood back to Hollywood. Since 2009, as put into place by former Gov. Arnold Schwarzenegger and signed by reigning Gov. Jerry Brown, California has enhanced its own incentive program – offering $100 million a year and an up to a 25 percent tax credit for filming, perks that can be accessed through a lottery.
"The program has been successful from the standpoint that many more people have applied to get that incentive than the money that is available. But a lot of producers hate this lottery system," Johnson said. "How can they plan their production when they don't know if they'll get the incentive?"
And given that Disney's plans to expand its Santa Clarita lot were approved last week, with Paramount and Universal rumored to follow suit, we're told more pressure will be placed on Sacramento officials to do more in support of filming in the Golden State.
But not everyone supports tax breaks for Hollywood honchos.
"The rest of the state is in dire need of a tax break," added political and entertainment PR expert, Angie Meyer-Olszewski. "California has several other financial issues to sort out before giving money to Hollywood."