Pink flubs lyrics to hit song 'Who Knew' at NYC concert: 'I forgot the words. S---!'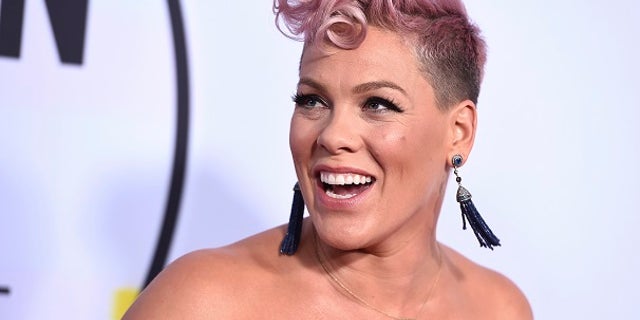 NEWYou can now listen to Fox News articles!
Pink forgot the lyrics to her hit song "Who Knew" at a concert Wednesday night at New York City's Madison Square Garden, but somehow she pulled off the flub like a rock star.
The Grammy-award winner stumbled over the second verse to her 2006 single on stage, reportedly yelling, "I forgot the words. S---!" She laughed off the awkward moment and skipped straight to the chorus -- with the audience roaring with applause.
Concertgoers took to Twitter after the show to lend their support for the star, who is currently on tour for her album "Beautiful Trauma."
"Hey Girl, you forgot your lyrics.. here they are! You still rocked it!!!!" one Twitter user wrote to Pink Wednesday, along with a screenshot of the song lyrics.
"@Pink may have forgotten the lyrics to "Who Knew" but each tour keeps getting better... #thirdtimesacharm," another added.
"Honestly @Pink remembering her lyrics would be a more shocking headline. Isn't that why we love her tho?"
"@Pink, thank you for doing "Who Knew" last night @TheGarden. Had me near tears," one Twitter user commented.
Pink didn't comment on the minor mishap on social media Thursday morning, but she has admitted to forgetting lyrics to hits in the past. Fans have also confirmed the star occasionally misses a line here or there.
"Honestly @Pink remembering her lyrics would be a more shocking headline. Isn't that why we love her tho?" one Twitter user said.
"Pink is TERRIBLE for forgetting her lyrics tbh I've seen her twice and both times she forgot her words but she does always pull it off so fair play to her," another added.
Pink admitted to forgetting the words to her 2001 song "Family Portrait" in August 2009.
"I was soooooo clumbsy tonight!!! I forgot the words to family portrait! Wow. I was not amazing," she posted on Twitter at the time.
"wow... im not cut out for sobriety... i forgot all the words, kicked my trapeze partner in the face, and forgot how to play guitar... woops," Pink tweeted months earlier, though she didn't elaborate on what song or performance she was referring to.
Regardless, Pink always wants the show to go on. The star was heartbroken in March when she had to postpone her Montreal concert after coming down with the flu.
"I'm grateful for you wanting to come and be with us at all. Our entire family has been battling this awful virus/flu for two weeks now," she explained at the time, adding that she was "absolutely gutted" to cancel. "I'm really sorry and know that I have done everything I could to avoid this."
Don't worry, Pink is getting a second chance to get the lyrics right. She's performing again at MSG Thursday night.
"I feel like Billy Joel right now. Two nights at The Garden?!" Pink exclaimed at her concert Wednesday.