Paul the Octopus, World Cup Oracle, Dies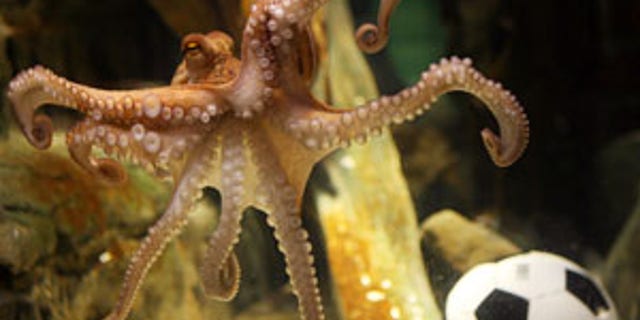 Paul the Octopus, the German sea creature who correctly predicted the results of eight World Cup matches this summer, has died, according to The Associated Press. He was 2 years old.
2010 World Cup: Paul The Octopus picks Spain
The seemingly psychic octopus died of natural causes Tuesday morning in his tank at the Sea Life Aquarium in Oberhausen, Germany. "We may decide to give Paul his own small burial plot within our grounds, and erect a modest permanent shrine," Sea Life manager Stefan Porwoll said in a statement.
Paul correctly forecasted the results of all seven of Germany's World Cup matches and Spain's final victory over The Netherlands by opening the lid of one of two clear plastic boxes, each containing a mussel and bearing a country's flag.
Following his rise to stardom as a sports soothsayer, Paul was appointed as an ambassador to England's bid to host the 2018 World Cup.
The English-born octopus retired from the psychic business after the final match to return to his former job of making children laugh.
View original Paul the Octopus, World Cup Oracle, Dies at TVGuide.com
Related Articles on TVGuide.com
Other Links From TVGuide.com