Pamela Anderson okay with sons experimenting with alcohol and drugs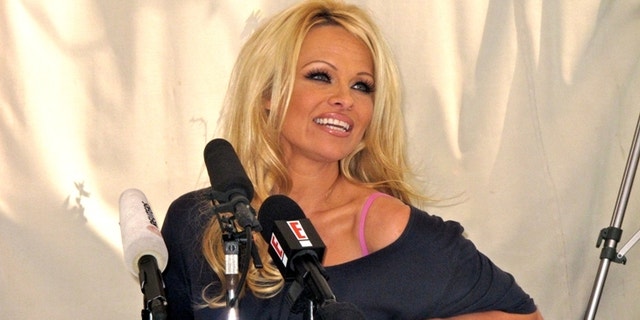 Long gone are the days of running up and down the beach in slow motion. Instead, Pamela Anderson says she's busy being mom to her sons with ex-husband Tommy Lee, Brandon Thomas, 15, and Dylan Jagger, 13.
But the former "Baywatch" beauty isn't stressing about keeping her kids away from the temptations of Tinseltown. In a "diary" entry entitled "Intuitive Parenting," posted on her website last year, Anderson wrote about her desires for her young ones to "learn to eat right," "honor their instincts," "never bully" and…
"We want them to practice safe sex, drink and experiment with drugs in moderation, find true love," the post continued.
Hold up. Experiment with drugs in moderation?
"I really believe in my kids. My kids have had a great foundation, they have seen the world," Anderson explained to FOX411's Pop Tarts column when we asked about her approach to parenting. "They've made great choices. They are really smart people, I am not afraid of my kids surfing the Internet. I think they are making proper decisions and you can't be in denial of what life has to offer. I don't know how much of a role model their parents are, but we've had a lot of fun."
Anderson told us about her parenting style at a press conference announcing her spokeswoman role with FrogAds.com, a giant classifieds site.
"My kids are technologists, I'm not, and it is easy for me to use," she said. "It's Craiglist for blondes. If I can do it, anyone can do it."
Danielle Jones-Wesley contributed to this report.