Outrage grows over CNN's pot-infused New Year's segment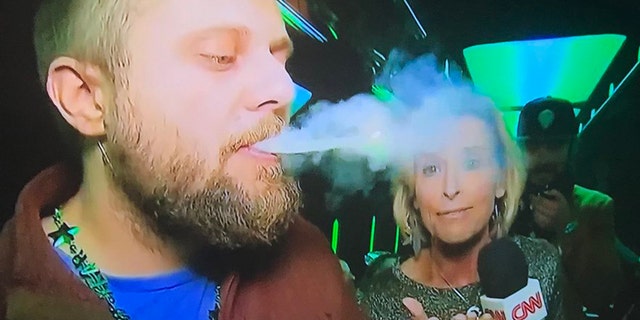 Outrage continues to mount two days after CNN put the "J" in journalism with a marijuana-themed New Year's Eve segment that some are already using as an excuse to smoke the Hippie Lettuce in states where it's not currently legal.
During the liberal cable news network's year-end broadcast from Times Square, reporter Randi Kaye did several, um, "hits" from Denver, where marijuana is legal. At various points, she held a joint, lit a bong, marveled over a special gas mask used by stoners and wondered where she was. Kaye didn't partake herself while on the air, but the bit was enough to appall some viewers and confuse people who might be locked up for doing the same thing.
"CNN is trying to trademark the debauchery as its brand for New Year's Eve coverage. I mean that quite seriously," Media Research Center President Brent Bozell said on Tuesday, while explaining that the network no longer has comic Kathy Griffin using obscenities to attract viewers. (Griffin was famously fired after she posed with a fake decapitated head made to look like that of President Donald Trump.)
"So this year they're doing pot and getting stoned," Bozell said.
For much of the morning on Tuesday, The Drudge Report led its site with a story headlined: "CNN's stoner new year! Bong lessons on news network." Meanwhile, TheBlaze spent a segment of Glenn Beck's radio program breaking down the pot-themed report.
"CNN … showed America how to do bong hits. Isn't that great? It was very helpful, especially if your kids are watching," host Pat Gray said.
And on New Year's Day, Fox News host Laura Ingraham tweeted: "We'll see how this all works out for our country. More potheads, increase in cases of schizophrenia, psychosis, more impaired driving ... as #BigWeed makes billions."
The story took another turn on Tuesday when WSB-TV reporter Tyisha Fernandes tweeted that 70 people were arrested when less than an ounce of marijuana was found at a house party. Since nobody claimed it, the police arrested everyone. Many people took to Twitter to point out what they described as hypocrisy between Fernandes' report and what CNN had advocated on New Year's Eve.
"But yet CNN just did their whole New Years Eve coverage on a Weed Party Bus," one user wrote, while another added, "They smoking weed on CNN tho."
Fernandes' news also sparked an onslaught of people bringing race into the situation, implying that only white people are allowed to smoke pot.
CNN did not respond to a request for comment.