New York Post's front page headline about Jeff Bezos' nude selfie scandal gets online applause
The New York Post is getting kudos for its front page, double entendre headline about Amazon founder Jeff Bezos' beef with American Media Inc. honcho David Pecker.
Friday's front page played on Bezos accusing the Pecker's National Enquirer of threatening to publish "intimate photos" of him, including a "below the belt selfie," and potentially compromising photos of his reported girlfriend, former TV anchor Lauren Sanchez, if he did not end an investigation into the company and its alleged political ties.
JEFF BEZOS: NATIONAL ENQUIRER'S PARENT COMPANY THREATENED TO PUBLISH LURID SELFIES, OTHER 'INTIMATE PHOTOS OF ME
The all-caps headline, "BEZOS EXPOSES PECKER," graced the paper – much to the delight of double entendre devotees.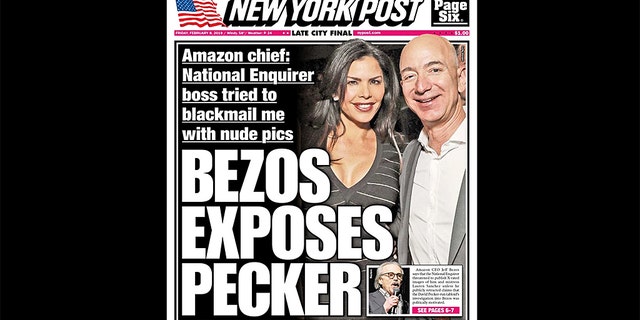 The National Enquirer published a story last month that included lurid texts between Bezos and Sanchez. Since then, private investigators for the billionaire have been looking into how the Enquirer got the texts. That set off, according to Bezos, a threat to back off or risk having the personal photos exposed.
The New York City tabloid is on a roll, as Thursday's front page declared "Virginia is for losers," a jab at the state's on-going scandals involving three top politicians. Friday's headline reminds media watchdogs of other classic tabloid headlines, such as "Headless Body in Topless Bar," which ran back in 1983 and is remembered as a legendary front page in journalism circles.
TRUMP SLAMS 'JEFF BOZO,' WASHINGTON POST OVER AMAZON FOUNDER'S DIVORCE
Many fans of the provocative Bezos headline immediately took to Twitter.
Meanwhile, others somehow didn't feel the cover was creative enough.
Fox News' Matt Richardson contributed to this report.