New violent comedy 'God Bless America' wages war on reality television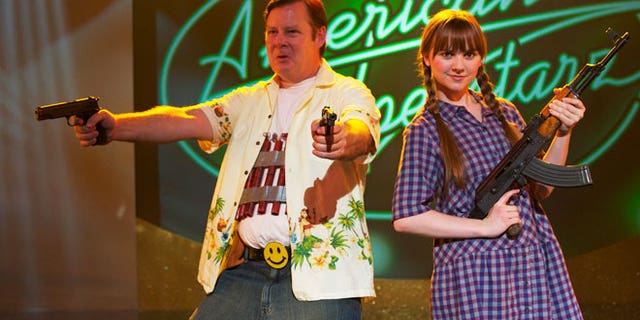 Edgy filmmaker Bobcat Goldthwait is sick of the dumbing-down of America thanks to reality television, and has brought to life the dark comedy "God Bless America" to serve as a wake-up call regarding the downward spiral of our culture.
"The tipping point was that I was in London and they had a 'My Super Sweet 16' marathon on and there I was watching teenage girls throwing fits because their parents bought them the wrong BMW. I was aghast, then a ringtone commercial about an elephant breaking wind. I was offended," Goldthwait told FOX411's Pop Tarts column. "So this is a violent movie about kindness. Social media is accelerating, people no longer have conversations. They just comment."
"God Bless America" centers on Frank (Joel Murray) who accidentally teams up with high school student Roxy (Tara Lynne Barr) who shares his loathing for stupid, intolerant individuals – particularly irritating reality stars. Together they travel across the United States, armed and dangerous with nothing to lose, in an attempt to take out those "who deserve it" and those who contribute to society's decline.
Kim Kardashian's name comes up several times, along with cast members of the "Jersey Shore" – but Goldthwait has no intention to invite them to a special screening or get to know them better.
"I don't send these people olive branches and say, 'hey – you should see my movie' because I don't like them. I don't want to invite Kim Kardashian, I don't like her. I don't care about her," he continued. "Having a fake conversation with her, I would hope Frank would come and shoot me."
But viewers should prepare to drop their jaws a few times, as the film features controversial images of Obama dressed up to be Hitler by a news outlet, among other public figures and well-known programs shown in a satirical manner.
The film takes particular aim at "American Idol" (but it's a rip-off version called "American Superstars") and takes a twisted yet humorous look at the way audiences relish the idea of making fun of the really hideous performers, and how far these people are willing to go for quick and easy fame.
"There are a lot of people who are famous for nothing. That doesn't even anger me; it is more about our obsession with these people. Then I see someone held up for ridicule … I used to be part of that; I used to be someone that thought it was funny. But I didn't feel good about it so I stopped watching," Goldthwait said. "I don't have answers; this movie doesn't have any answers. Unlike most people in entertainment, I am not going to tell you how to think."
"God Bless America" also takes aim – if you will – at the escalating sue-happy mentality of our world.
[pullquote]
"We have become such a litigious society. Back in my day, you are going to meet me after class and I am going to punch you in the throat and put you down and we won't have this argument again. Now you have to worry if they will take you to court, it is a different world than when we would fight in the yard," Murray lamented. "And this reality stuff – to see all this work that has been lost to actors and writers because it is cheaper to make these reality shows. They aren't real anyway; they are at least outlined and scripted. It is a crock, I hate it passionately. I would rather live my own life than watch somebody else's."
And Goldthwait is already prepping for criticism suggesting that the gun-savvy film could promote violence and encourage others to unhinge and embark on a similar assault across America to take out those who rub them the wrong way.
"This movie can't inspire to kill. You can't take healthy, normal people and inspire them to kill," he added. "If people are inspired by this than they are probably just as inspired by a rerun of the 'Golden Girls.'"
"God Bless America" is now on-demand and opens in theaters Friday.