Neil Young confirms Daryl Hannah marriage in a message urging fans to vote
Neil Young confirmed his marriage to 57-year-old actress Daryl Hannah in a message on his website encouraging fans to vote in the upcoming midterm elections.
In the online message entitled "Again," the 72-year-old star refers to Hannah as '"my wife Daryl" and goes on to talk about a video the newlyweds put together in which they advocate for stricter gun laws to "protect our people."
"With no real laws protecting us from guns, and with politicians supporting the NRA, because the NRA supports them, we are not well represented, " Young wrote in his message. "Today's students are brave, demanding change in violent times."
He continued on to introduce the 5-minute film and said, "My wife Daryl and I put this video together for you to reflect on. Support the students. Support our children. They want protection."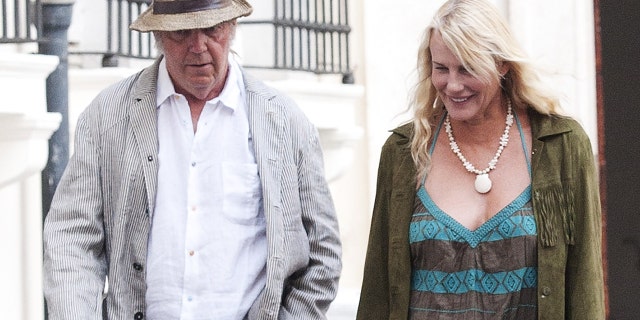 In the short video, Young can be seen performing in front of an audience while footage of violent attacks and mass shootings appear on a screen behind him.
Young and Hannah have been together since 2014 and it was reported by several media outlets in August that the couple had secretly tied the knot.
According to the New York Post, the pair held their top-secret wedding ceremony in San Luis Obispo, Calif.
The intimate affair reportedly consisted of only 100 guests with celebrities such as Joni Mitchell and Stephen Stills in attendance.
Young's recent post marks the first time the singer has publicly addressed the couple's rumored marriage and referred to Hannah as his wife. The post also revealed that the singer's song "Ohio," was inspired by the 1970 National guard killing of four students at Kent State University who were protesting the Vietnam War.
Young concluded his message and said, "Not more guns. Give us common sense gun laws that protect our people, in schools, in places of worship, in the workplace and on the streets. VOTE."