MSNBC's Joy Reid calls Trump supporters 'deplorables'
MSNBC's Joy Reid borrowed a term from Hillary Clinton in her latest attempt to mock President Trump supporters on Tuesday, when she referred to them as "deplorables" on Twitter.
"Sometimes I think Donald Trump has given up on the idea of ever being respected by anyone other than his 'deplorables,'" Reid wrote in response to Trump's speech to the United Nations on Tuesday.
The "AM Joy" host is apparently upset that Trump threatened the "total destruction' of North Korea during his speech to the U.N. General Assembly on Tuesday and has taken to Twitter to vent and express her frustrations. In other tweets, she criticized the speech as "weird," "insane" and even said Trump should have better "decorum" than he showed.
Trump said about Kim Jong Un, "Rocket man is on a suicide mission for himself and his regime.
The MSNBC host also was apparently insulted that Trump referred to the North Korean leader as "Rocket Man," writing, "What adult talks like that in public, let alone on a world stage?"
Reid mocks Trump and his supporters on a regular basis and also claimed that America's "image in the world deteriorates a little more" every day in a separate tweet she sent on Tuesday. However, the "deplorables" comment is just as much of an homage to Clinton as it is an insult to Trump. Then-candidate Clinton famously said that half of Trump's supporters fit into a "basket of deplorables" on the campaign trail in 2016.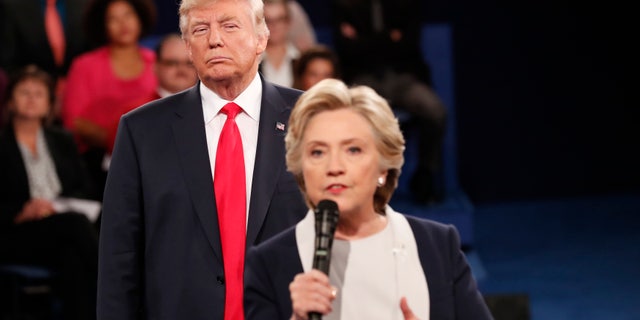 "You know, to just be grossly generalistic, you could put half of Trump's supporters into what I call the basket of deplorables. Right?" Clinton said. "The racist, sexist, homophobic, xenophobic, Islamaphobic -- you name it. And unfortunately there are people like that. And he has lifted them up."
At the time, Trump took to Twitter to respond to the comment that Clinton made two months before she lost on Election Day.
"Wow, Hillary Clinton was SO INSULTING to my supporters, millions of amazing, hard working people," he wrote. "I think it will cost her at the Polls!"
"Sometimes I think Donald Trump has given up on the idea of ever being respected by anyone other than his 'deplorables'"
Clinton doubled down, saying that she regretted saying "half," adding "that was wrong." After her loss, Clinton eventually said that her "deplorables" comment was a "political gift" to Trump that helped seal her fate.
"I thought Trump was behaving in a deplorable manner. I thought a lot of his appeals to voters were deplorable," Clinton recently told CBS. "I'm sorry I gave him a political gift of any kind, but I don't think that was determinative."
Last week, Reid was mocked when she said that right now is "the worst time to be a human" in the history of civilization, simply because she disagrees with the politics of the president.
Back in June she criticized House Majority Whip Steve Scalise, R-La., while he was still hospitalized after being shot when a gunman attacked Republican members of Congress during a baseball practice.