'Modern Family' star Sarah Hyland promises show will have 'bigger thing' coming after character's death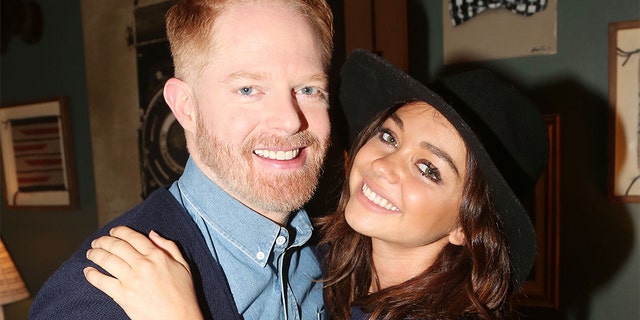 Could "Modern Family" have a bombshell up its sleeve?
SPOILERS BELOW
Actors Jesse Tyler Ferguson and Sarah Hyland – who play Mitchell Pritchett and Haley Dunphy, respectively, on the ABC sitcom – let slip some details about the show on Friday.
A "bigger thing than the death" is approaching, Hyland, 27, told the Hollywood Reporter, referencing Shelley Long's character DeDe Pritchett being killed off in Wednesday's episode. The new plot point, she said, "was a shock, that's for sure" but she was vague about how it would affect her own role.
"There's a lot happening with Haley, but I can't say," Hyland said.
Ferguson, 43, also chimed in.
'MODERN FAMILY' FINALLY REVEALS CHARACTER SHOW KILLED OFF
"There's a major thing happening this season. It's beyond," he teased to the publication.
DeDe Pritchett died during "Good Grief," this season's Halloween episode. The character was the mother of Claire Dunphy (played by Julie Bowen) and Mitchell Pritchett, and appeared in seven episodes of the show, according to IMDb.
Series co-creator Christopher Lloyd had told Entertainment Weekly in September that a major character would die on the show as the ABC hit comedy handles "some bigger life events" in its tenth season.
Ferguson admitted he knew about DeDe's demise for a while.
"I heard it very early on and I didn't think it was going to be such a big deal," he said. "I thought we would just handle it as it was another storyline. But it leaked ... and then it became this media thing."
'MODERN FAMILY' STAR JESSE TYLER FERGUSON DENIES ABC COMEDY WILL KILL OFF DOG: 'IT'S A HUMAN BEING'
Online criticism that the death was overhyped, since DeDe didn't play a huge part on the sitcom, left the actor stunned.
"We have very bloodthirsty fans," he said. "Also, I feel like the mother of two of the characters that we've grown to love is a pretty significant character. So really, the only drawback is I won't get to work with Shelley Long in the near future."
The plot point got the support of Hyland, who described "Good Grief" as a "beautiful episode."
"There's so many things I loved about that storyline," she said. "I think especially the idea of a brother and sister having a very different relationship to the family member that has passed and being able to come to solid ground on how they feel."
Fox News' Nicole Darrah contributed to this report.